Humana Inc is reportedly considering a sale of the company after receiving indications of takeover interest.
According to the WSJ, a person familiar with the matter said that Humana is working with Goldman Sachs on the potential sale.
A takeover would represent further consolidation in the US health insurance industry.
Aetna and Cigna are said to be among those that have had preliminary merger discussions with Humana, the WSJ report noted.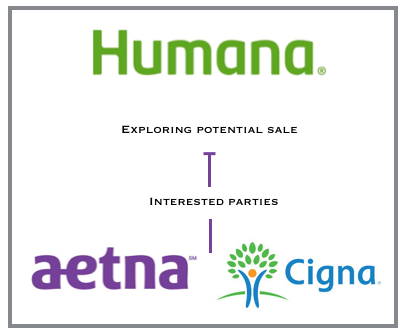 Humana Inc, based in is Louisville, Kentucky, is a for-profit health insurance company. The firm makes most of its money managing the private version of the federal Medicare program.
Humana stock has performed very well over the past year because of speculation about a deal and optimism about the future of its Medicare business.
"We view this step as a trigger event in a managed-care industry overdue for consolidation," analysts at Leerink Partners LLC wrote in a research note Friday afternoon. "We expect the next year will see multiple strategic actions among the major players."
The US health insurance industry is under pressure to cut costs and consolidation would help address that problem.
A merger would also give the company more leverage when it comes to negotiating contracts with hospitals.
A deal could be met with resistance from the US Justice Department
Andre Barlow, a veteran of the Justice Department now at Washington law firm Doyle, Barlow and Mazard PLLC, told Reuters that the Justice Department, which reviews insurance mergers, will scrutinize a deal if the combination would have a monopoly in a metropolitan area.
"Humana is going to be selling itself to another mega player and the antitrust division has shown itself to be interested in scrutinizing mega mergers. The deal could be met with some resistance," said Barlow.
---
Video – What is takeover?
This article explains what a takeover (acquisition) is, and how it differs from a merger.
---