Two humanoid robot proposals have been selected by NASA to help its astronauts on their journey to Mars. A humanoid robot is a robot that looks like a human – it has a body shape like that of a person. Humanoid robots are currently used as research tools in several scientific areas.
Two universities – the Massachusetts Institute of Technology in Cambridge and Northeastern University in Boston – have been awarded prototype proposals by NASA for advanced research and development work.
NASA says humanoid robots will help astronauts on their voyage to Mars. The US space agency is interested in robots that look like humans because they can help or even take the place of space men and women working in extreme environments.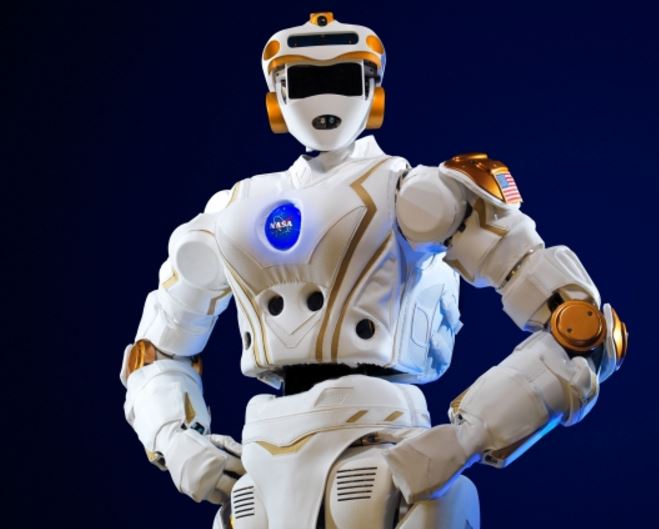 NASA's Valkyrie (R5) robot is 6 feet tall and weighs 290 pounds. (Image: MIT. Credit: NASA)
Future space crews of humans and robots
Robots, such as NASA's R5 (Valkyrie) could be used in future deep-space NASA missions either as forward scouts performing mission tasks ahead of human astronauts' arrival, or as active members of a space crew, working alongside people.
---
---
R5's initial objective was to complete disaster-relief maneuvers. However, its long-term goal is to prove itself worthy of an even more demanding terrain – deep space exploration.
Steve Jurczyk, associate administrator for the Space Technology Mission Directorate (STMD) at NASA Headquarters in Washington, said:
"Advances in robotics, including human-robotic collaboration, are critical to developing the capabilities required for our journey to Mars. We are excited to engage these university research groups to help NASA with this next big step in robotics technology development."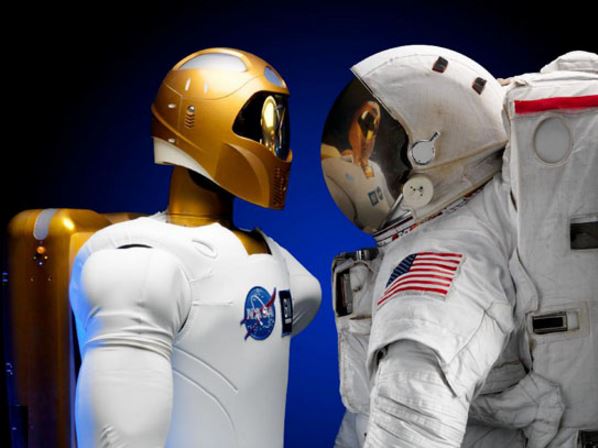 NASA sees future deep space missions operated by both humanoid robots and humans.
The selected university proposals
NASA selected the following two university proposals:
1. Robust Autonomy for Extreme Space Environments: Hosting R5 at MIT (Massachusetts Institute of Technology) in Cambridge, Massachusetts. Team leader will be Russ Tedrake, Associate Professor at MIT's Department of Electrical Engineering and Computer Science and a member of CSAIL (Computer Science and Artificial Intelligence Laboratory).
2. Accessible Testing on Humanoid-Robot-R5 and Evaluation of NASA Administered (ATHENA) Space Robotics Challenge. At Northeastern University, Boston, Massachusetts. Team leader will be Taskin Padir, Associate Professor of Electrical & Computer Engineering at the university's College of Engineering.
NASA chose the two university groups through a competitive selection process from candidate groups in the Defense Advanced Research Projects Agency (DARPA) Robotics Challenge.
They will also receive up to $250,000 annually for two years and have access to NASA's onsite and virtual technical support.
The research is being funded by STMD's Game Changing Development Program, which is charged with promoting rapidly maturing innovative technologies that will eventually change how NASA explores space.
The two principal investigators: Russ Tedrake (left) and Taskin Padir.
NASA's Space Robotics Challenge
Professors Tedrake and Padir will serve as critical partners in NASA's forthcoming Space Robotics Challenge where two R5 units will act as instruments.
The challenge forms part of NASA's Centennial Challenges Program, and comprises two competitions: 1. A virtual contest using robotic simulations. 2. A physical contest using two upgraded R5 robots. The challenge's aim is to create better software for dexterous humanoid robots used in deep space missions, so that they can do more unsupervised work.
NASA's Langley Research Center in Hampton, Virginia, is in charge of managing the Game Changing Development Program for the agency's Space Technology Mission Directorate. The Directorate is responsible for developing state-of-the art, pioneering technologies and capabilities required by NASA to achieve both its current and future space missions.
The MIT team
According to MIT, Prof. Tedrake, who is head of CSAIL's Robot Locomotion Group, has extensive experience with robots.
Over the last three years, Prof. Tedrake led a team of over 20 scientists to develop algorithms for a government competition to get Atlas – a 6-foot tall humanoid robot – to turn valves, drill holes, open doors, climb stairs, drive a car, and scramble over cinder blocks – all with the space of sixty minutes.
Prof. Tedrake is also a member of CSAIL's new $25 million Toyota-funded autonomous car research center, that focuses on advanced decision-making algorithms and systems that allow cars to perceive and navigate their surroundings with no human input (safely).
Dr. Gill Pratt, a former MIT professor, will be coordinating the larger collaboration. Dr. Pratt most recently was program director at DARPA's Defense Sciences Office.
Video – Valkyrie: NASA's Superhero Robot
Meet Valkyrie, NASA JSC's DARPA Robotics Challenge humanoid robot.