With operating profit increasing to €380 million compared to €245 million in Q2 2013, IAG Q2 results pleased investors. Revenue for the quarter rose by 4.4% to €5,086 billion (excluding Vueling, which fell 2.5%).
For H1 2014 (first half), IAG made an operating profit of €230 million compared to an operating loss of €33 million during the same period in 2013. Revenue for H1 2014 rose 6.7% as did fuel costs (4.9%).
International Consolidated Airlines Group (IAG), the second-largest airline in Europe by market value, owns British and Spanish flagship carriers British Airways and Iberia, the Spanish low-cost airline Vueling, and IAG cargo.
Regarding the second quarter, IAG CEO Willie Walsh said:
"This performance shows that we are making further solid progress. Our disciplined approach to capacity continues and we will make reductions where it makes sense as we go through the year. We are, therefore, trimming planned IAG capacity by around three percentage points for the winter 2014 seasons."
The Group's passenger numbers rose from 29 million in H1 2013 to 35 million in H1 2014.
Best Q2 in seven years
Mr. Walsh added that all IAG's subsidiaries posted their best second quarter operating result since 2007.
Below is a list of Q2 2014 operating profits by IAG's three passenger airlines:
British Airways: €332 million (Q2 2013: €247 million),
Iberia: €16 million (Q2 2013: loss €35 million),
Vueling: €30 million (Q2 2013: €27 million).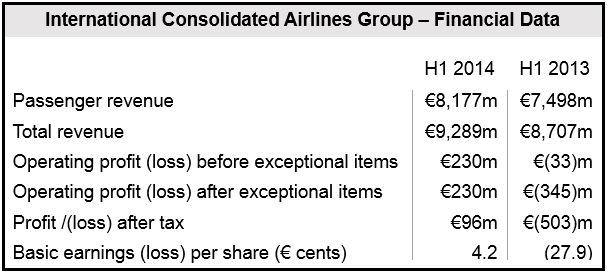 (Data source: International Consolidated Airlines Group – IAG)
Iberia turnaround
Mr. Walsh's controversial cost-cutting drive, which has already reduced Iberia's workforce by 4,500, is beginning to get the Spanish carrier back into shape.
IAG says Iberia's restructuring program is still ongoing. The airline signed an agreement in July that may lead to an additional 1,427 layoffs. "This will create new opportunities for Iberia to enhance its profitability further in the next two or three years," the company wrote.
Iberia will be adding eight Airbus A330-200s and eight A350-900s to its longhaul fleet.
Today, Iberia announced it is beginning to sell its stake in the travel technology firm Amadeus.
IAG trading outlook
At current exchange rates and fuel prices, the company forecasts a €500 million increase in operating profit for the 2014 full year, compared to €770 million in 2013.
Its passenger revenues are expected to remain fairly flat, with a slight expansion driven by lower unit costs.
Last month, Air France-KLM announced a steep rise in Q2 profit to €238 million from €84 million last year.