The US June Restaurant Performance Index declined slightly to 101.3 from 102.1 in May, the first fall in four months, according to the National Restaurant Association, which pointed out that the RPI (Restaurant Performance Index) has been above 100 for 16 successive months. Anything over 100 indicates expansion.
Hudson Riehle, senior vice president of the Research and Knowledge Group for the Association, said:
"Although overall same-store sales remained positive in June, the RPI dipped as a result of softer customer traffic levels. Looking forward, restaurant operators are generally optimistic about sales growth in the months ahead, and their outlook for capital spending remains near post-recession highs."
The RPI comprises two components: 1. The Current Situation Index, and 2. The Expectations Index.
The Current Situation Index
The Current Situation Index slid 1.1% from May to 100.9 in June, the first drop in four months. Even so, it remained above 100 for the fourth month running.
The Current Situation Index includes four industry indicators:
Same-store sales: most restaurant operators reported higher sales for the fourth consecutive month. However, overall, the results were not as strong as in May. Fifty-five percent of restaurateurs reported a same-store sales increase between June 2013 and June this year, compared to 65% in May. Twenty-seven percent reported a decline in June, compared to 19% in May.
Traffic: overall, June's figures were softer than May's. In June, 39% reported year-over-year traffic increase, compared to 47% in May, while 41% reported a year-over-year decline in June versus 29% in May.
Capital expenditures: remained solid in June. Fifty-three percent of respondents said they spent money on equipment, expansion or remodeling in June, the same percentage as in May.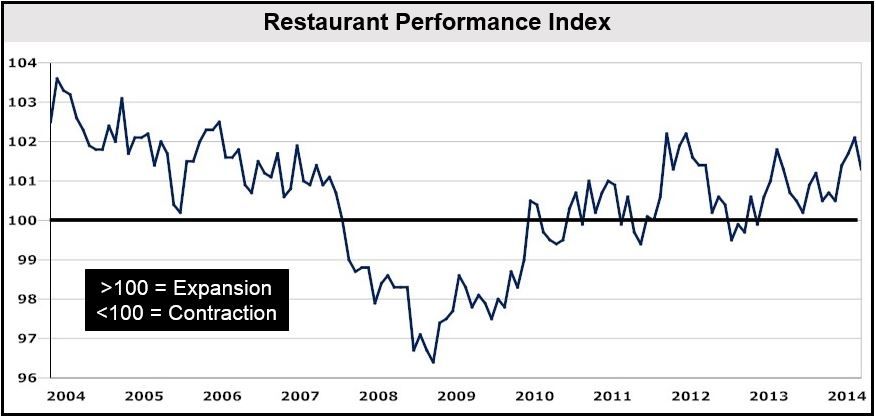 (Source: National Restaurant Association)
The Expectations Index
The Expectations Index, which gauges restaurateurs' outlook for the next six months, was 101.7 in June compared to 102.2 in May (and 102.2 in April).
Despite a marginal decline, June posted the 20th successive month above 100, i.e. restaurant operators have been generally optimistic about the short-term future for nearly two years.
The Expectations Index consists of four leading indicators:
Same-store sales: overall, restaurateurs are still optimistic about sales growth for the second half of this year. Forty-four percent of respondents expect the next six months will bring in higher sales than the same period in 2013, compared to 50% in May. Only 10% of restaurant operators in June and 8% in May see lower sales over the same periods.
Capital expenditures: fifty-nine percent of restaurateurs plan to spend money on remodeling, expansion or equipment during the next six months, fewer than the 62% in May. However, for the tenth month running, the majority of respondents said they expect to carry out some kind of capital spending.
Business conditions: twenty-seven percent expect economic conditions to improve, 18% expect them to get worse, while 55% forecast no difference.
In January, the National Restaurant Association forecast 2014 to be another year of strong growth.