Thousands of miles of rivers in England have been opened up to improve fish migration, the Environment Agency announced on Fish Migration Day 2016 (21st May). The equivalent distance of London to Rio de Janeiro and back – 20,000 kilometres or 12,427 miles – of rivers have been opened up since 2012.
Nearly two-hundred obstructions have been dealt with, which means fish passes have been installed and weirs removed.
Fish migration vital for survival of many species
Migration is a crucial phase of many fish species' life cycles – they need to migrate to be able to reproduce and feed. If they are unable to migrate, their survival status deteriorates.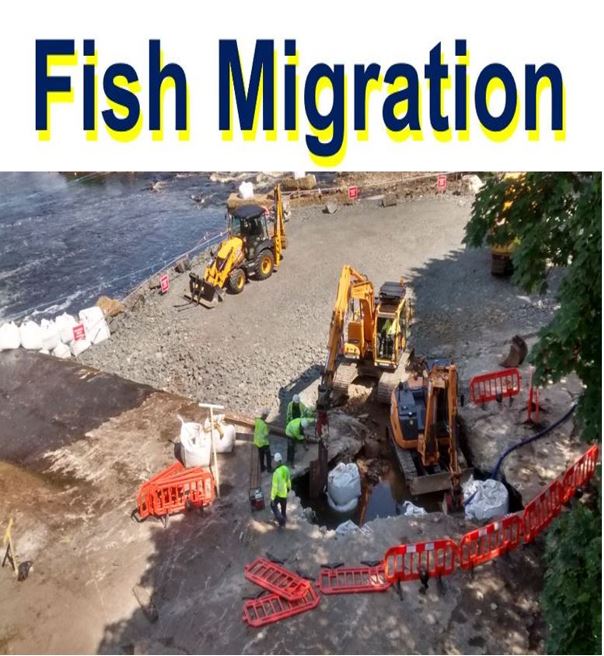 Building the Hexham Fish Pass. While it was being built last year, Tyne Rivers Trust wrote: "Our thanks go to all those who have helped Tyne Rivers Trust bring this much-needed project to this exciting stage." (Image: tyneriverstrust.org)
By removing weirs and creating fish passes, 'fish highways' are now present that make it faster and easier for the aquatic creatures to travel from the sea right up to the upper reaches of rivers.
Course fish that spend their whole lives in the river benefit from this work, as do species that migrate from the river to the sea and vice-versa, such as sea trout, salmon and eel.
---
---
Young eels travel an amazing 5,000 km (3,106 m) across the north Atlantic Ocean from the Sargasso Sea to rivers across much of Europe. Adult eels make the journey all the way back to spawn.
Weir removed or fish pass created
It has not been possible to remove all the weirs. In some cases, their removal would damage bridges, walls or buildings, where the risk of flooding would be greater, in other cases there is a heritage interest. When a weir cannot be removed, a fish pass is created.
The European eel (Anguilla anguilla) is the only European fish to migrate downstream, leaving the coast to spawn in the sea. As a juvenile it migrates several thousand miles, and then again as an adult. (Image: marinereservescoalition.org)
Head of Fisheries at the Environment Agency, Sarah Chare, said:
"After considerable investment, rivers in England are the healthiest for 20 years. This is down to more than a decade of hard work to improve the health of England's rivers."
"But there is more to do and opening up our rivers to help fish migrate is a crucial part of this. By working with partners we can play to different organisations' strengths, make our money go further and deliver more."
---
---
Environment Agency working with partners nationwide
The Environment Agency says it has been working closely with partners on projects across the country. An example of a recent success in removing a migration barrier is a new fish pass on the River Tyne. The Environment Agency worked with Northumberland County Council and the Tyne Rivers Trust to build the Hexham fish pass, which opens up access to several miles of spawning and juvenile habitat.
By working with partners, the Environment Agency says there are now several significant additions to Yorkshire's 'fish highways'. Two weirs were removed on the River Don in Sheffield, and another one on the River Aire in Leeds.
Both the Don and Aire rivers are now returning to a natural series of shallow, fast sections which are separated by deeper pools – thus providing a better habitat for the coarse fish, brown trout and grayling that live there, and also for the invertebrates that they feed on.
Salmon and sea trout can now more easily migrate from the sea up to some of Dorset's best-known rivers thanks to the efforts of a unique partnership that has been attempting to increase fish numbers by removing artificial obstacles such as weirs and hatches.
Improvements at ten sites on the Rivers Brit, Asker, Piddle and Frome now allow fish to swim upstream to spawning grounds – this is the first time they have been able to do this in a long time.
We reached over 15 million people worlwide with#WFMD2016 on social media! keep up the good work and thank you all! https://t.co/zhvuc6Jmrg

— Fish Migration (@fishmigration) May 21, 2016
Fish Migration Day
According to worldfishmigrationday.com:
"The World Fish Migration Day (WFMD) is a one day global-local event to create awareness on the importance of open rivers and migratory fish. See what events are going on in your area!"
"Migratory fish all over the world depend on free flowing rivers. Today, river barriers like dams, sluices and many other obstacles threaten many fish species' survival. Free flowing rivers, that allow fish to trave upriver, increase fish opulations in the river and assure healthy river life."
Over one thousand organisations across the world are involved in creating awareness on World Fish Migration Day.
Video – Helping fish migrate
To celebrate World Fish Migration Day 2016, the Environment Agency explains what it is doing together with partners across the country to open up England's rivers.