India is next in the UK's desperate search for post-Brexit trading partners to plug the potential gap if the British Government fails to secure a trade deal with the European Union.
The Chancellor of the Exchequer (Finance Minister), Philip Hammond, will lead a business delegation to India next week. He will be joined by Mark Carney, the Governor of the Bank of England, Mark Garnier, Parliamentary Under Secretary of State for International Trade, and Baroness Neville-Rolfe, Minister of State in the Department for Business, Energy and Industrial Strategy, for talks in Mumbai and New Delhi.
According to Mr. Hammond, the UK's top priority now that it has started EU-divorce proceedings, is to boost investment and trade 'beyond the borders of Europe'. Securing links with 'the world's most vibrant economies' is vital for the UK's future financial and economic health, he added.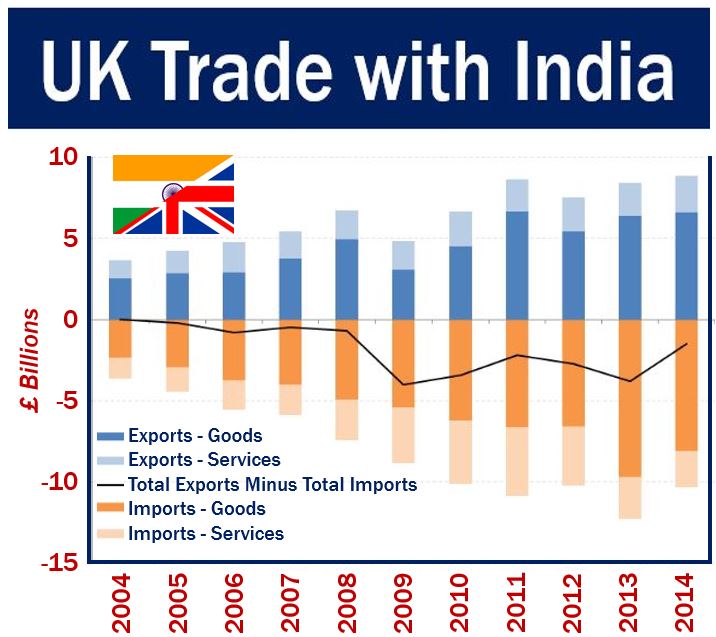 If over a ten-year period – while an EU member – UK trade with India has been growing nicely, wouldn't trade continue expanding healthily if Britain remained within the EU? Some people may wonder whether it is really necessary to leave the trading bloc in order to do more business with economies across the world. (Image: adapted from: webarchive.nationalarchives.gov.uk)
Article 50 triggered
Last week, British Prime Minister Theresa May formally triggered Article 50 of the Lisbon Treaty, starting the 24-month countdown for leaving the 28-nation economic bloc.
It did not take long before Brexiteers' promises of new trade deals with Australia and New Zealand after the UK was free of EU shackles began to ring rather hollow.
---
---
How could two countries, more than 9,400 miles away with a combined population of 27.5 million, make up for the loss of the EU market, which is just 20.7 miles away and has a total population of 508 million, Britain's business community wondered.
India – a huge and growing market
India, with a population of 1.252 billion, and an estimated GDP (gross domestic product) of $9.549 trillion, which over the past two decades has been growing by 7% (average) annually, is a hugely-important market for a post-Brexit trade deal.
While still a member of the EU, which the UK will be until the final separation papers are signed by all parties, it cannot sign any trade deals with outsiders. Even so, the country has to get ready – hence the business delegation visit to India next week.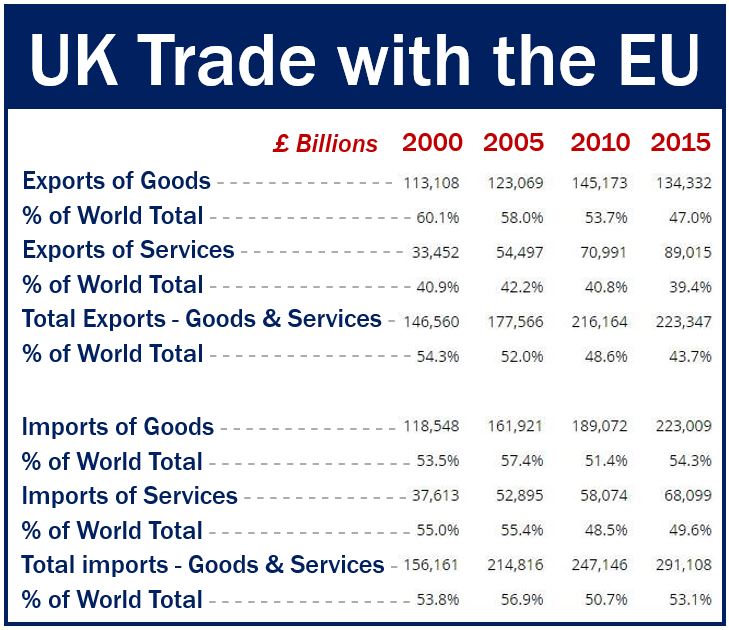 As you can see in the chart above, the European Union makes up about half of all the UK's international trade. It is absolutely crucial that Britain secures a trade deal with the economic bloc. (Image: adapted from ons.gov.uk)
According to Mr. Hammond:
"The UK is perfectly placed to be India's financial partner of choice, helping it to raise the finance needed for its continued rapid growth and my message will be 'make in India, finance in the UK'."
"Our innovative markets have helped support the development of whole new product classes such as masala bonds that will support India's transformation."
---
---
In a press release, the UK Government wrote:
"India's ambitious growth aspirations require it to develop its financial infrastructure and tap into global investors, with estimates suggesting that it needs over $1.5 trillion of capital in infrastructure investment alone in the coming years."
"The UK and the City of London are therefore perfectly placed to be India's partner of choice to raise the finance it needs to deliver on its plans, the Chancellor will say."
India wants UK trade deal
In July 2016, in an article in the Financial Times, Peter Campbell quoted Naushad Forbes, President of the Confederation of Indian Industry, who said that a bilateral trade agreement between the United Kingdom and India would be a 'deal made in heaven', and would pave the way for growing trade following Brexit.
Mr. Forbes said that talks over an EU-India trade agreement, which had been ongoing for nearly a whole decade, were being held up due to concerns about European vehicle and wine exports.
Most economists agree that India is set to grow faster than any other major economy over the next five years. (Image: Adapted from World Bank)
However, the problems which are delaying the EU-India deal would be removed if there were a direct India-UK arrangement, which the UK would be free to do after it left the European trading bloc.
Mr. Forbes said: "It would be an agreement that would be almost made in heaven."
Chandrajit Banerjee, Director General for the Confederation of Indian Industry, believes an India-UK trade deal would not take more than 12 months to negotiate and sign.
Mr. Banerjee's comments provided some vindication for Leave supporters (Brexiteers) who argued during the referendum campaign last year that leaving the trading bloc would allow the UK to negotiate its own trade agreements with some of the fastest economies across the globe, including India and China.
However. Mr. Banerjee also said that some Indian commercial enterprises with operations in the UK might have to consider opening in a EU country after Brexit.
Mr. Banerjee said:
"A large amount of [Indian investment Britain] has been there strategically because of the EU."
Navtej Sarna, Indian high commissioner to the UK, said:
"Businesses thrive on uncertainty. This is the time to be talking, the time to be creating trust, the time to be instilling confidence. The UK can contribute hugely to India's objective to become a manufacturing and design hub."
The British Government says there are many reasons to choose the Indian market as an export destination:
– English is spoken widely.
– Both countries have a common administrative and legal history.
– India's rapidly-rising personal incomes are creating a new middle-class consumer market.
– India's fast-growing economy has one of the largest youth populations in the world.
– There are many expanding emerging cities in India. Today, more than fifty Indian cities have more than 1 million inhabitants.
---
Video – What is International Trade
International trade is all about imports and exports, i.e.,nations purchasing and selling things to each other.
---