UK inflation fell to 1% in November – a 12-year low – compared to 1.3% in October, the Office for National Statistics (ONS) reported on Tuesday, driven mainly by the decline in global oil prices.
The figure, while higher than price rises recorded in the Eurozone, moves inflation further away from the Bank of England's target of 2%.
If inflation veers by more than one percentage point from its 2% target, Bank of England Governor Mark Carney must explain formally to the Chancellor of the Exchequer George Osborne why this occurred and what would need to be done.
All bets are now on the Bank of England not having to consider raising interest rates well into the second half of 2015, and possibly not even then.
Most economists in London had expected the Consumer Price Index (CPI) to ease back to about 1.2%, and were surprised at the 1%, the lowest rate since September 2002.
In November, motor fuel prices declined by 5.9%, the ONS informed. Food prices fell by 1.7%, their steepest drop since June 2002. There is currently a supermarket price war underway in the UK.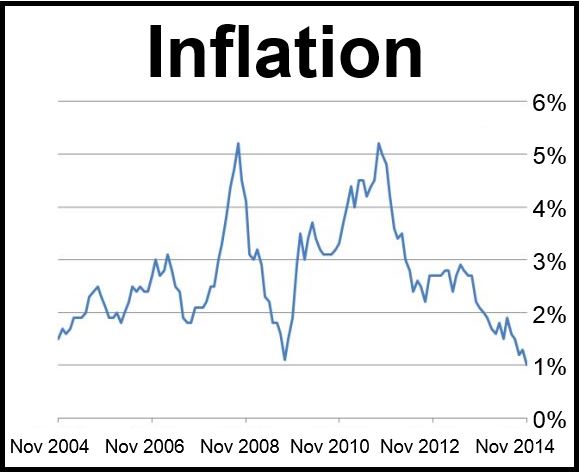 Source: Office for National Statistics.
With the pound sterling rising in recent months, the price of imported goods has also fallen.
In November, the Bank of England (BoE) predicted that prices would rise by below 1% in the next few months. Since that forecast, oil prices have plummeted even further.
The BoE does not expect its 2% inflation target will be met until 2017.
Mr. Osborne is probably pleased with the latest decline in the CPI, because it further eases the squeeze on households and ensures that wages rise faster than prices – an ideal pre-election environment.
Wage growth data will be published on Wednesday. Analysts predict earnings growth of 1.5% in the three-month period ending in October.
Prices at the factory gate declined by 0.1%, the ONS informed.