The Co-operative Bank, which nearly folded last year, failed the Bank of England's debut annual bank stress test, while Lloyds Banking Group and Royal Bank of Scotland (RBS), the two state-backed institutions, just managed to scrape through.
Since the global financial crisis and Great Recession that followed, authorities in Europe, North America, Japan, Australasia and several other countries have started carrying out bank stress tests, which are aimed at determining how well banks could absorb shocks and survive.
The BoE commented, however, that both state-backed banks are in need of further strengthening. They will not be required to submit new plans.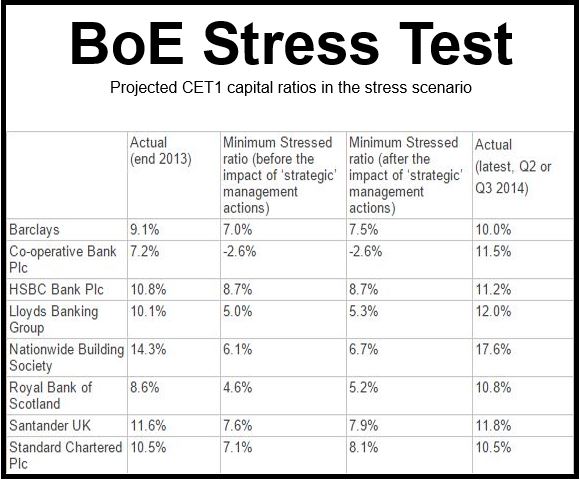 Source: Bank of England.
All the other banks – HSBC, Santander, Barclays, Nationwide, and Standard Chartered – passed. Lloyds' result means it is more like to be paying a dividend for 2014.
The Bank of England's stress test puts the banks through a doomsday simulation in which unemployment spikes steeply to 12%, house prices crash, inflation rises to over 6%, and interest rates spike to 4.2%.
It is tougher on banks with high exposure to British mortgages, such as Nationwide, Lloyds and RBS.
The bank insisted that the simulation was an "extreme" one and highly unlikely to materialize.
Mark Carney, Governor of the Bank of England, said the tests show that British Banks are much more resilient to financial crises than they were in 2008. "This was a demanding test," he commented.
The Co-operative Bank, which nearly collapsed after a £1.5 billion black hole was discovered in its balance sheet last year, will need a "revised capital plan", the BoE said.
While admitting he was not surprise it failed the test, Co-operative Bank CEO Niall Booker said his company was on track to "significantly reduce risk-weighted assets."
Although pleased with the overall results, Mr. Carney warned:
"However, recent misconduct and operational failings have highlighted that rebuilding confidence in the banking system requires more than financial resilience. In addition, changes to bank business models are expected to challenge management capacity over the next few years. In this environment, strong, effective and well-informed governance and management of banks will be essential."
Video – What does stress test fail mean for Co-operative customers?
In this Sky report, City Editor Mark Kleinman says customers need not be worried about the safety of their money.