Inge Lehmann (13 May, 1888 – 21 Feb, 1993), a Danish seismologist and geophysicist who discovered the Earth's inner core, was born exactly 127 years ago today. Google is celebrating her birthday with a new Doodle.
In 1936, Ms. Lehmann suggested from existing seismic data that the Earth had an inner core with physical properties distinct from the outer core's, and that our planet's core was not a single molten sphere.
Other eminent seismologists, who were not able to propose a feasible hypothesis for the observation that the P-wave created by earth tremors slowed down when it reached certain areas within the inner Earth, rapidly accepted her conclusion.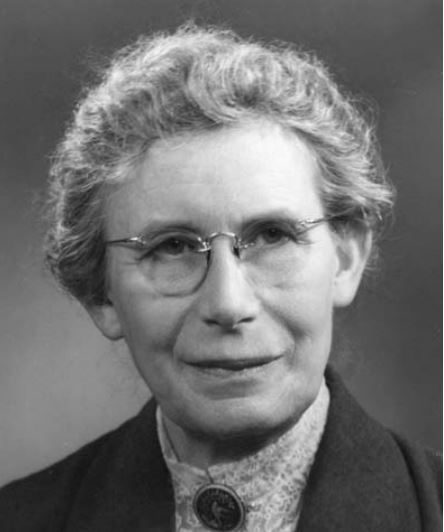 Inge Lehmann (1888-1993). (Image: annalsofgeophysics.eu)
Early life and education
Ms. Lerhmann was born and brought up in Østerbro, one of the 10 official districts of Copenhagen. Her father, Alfred Georg Ludvik Lehmann, was an experimental psychologist.
As a child, she went to a pedagogically progressive high school led by her aunt, Hanna Adler. She said her aunt and father were the most significant influences for her intellectual development.
She studied mathematics at the University of Copenhagen and the University of Cambridge.
According to a UCLA, Berkeley, paper "However, serious overwork from accelerated study to pass the entrance examinations led to her return home in December 1911. Her recovery was slow, and for a long time she could not consider resuming her university studies."
She put aside her studies for a while and worked in an actuary office (calculating risk) for a few years, where she developed good computational skills. In 1918, she continued studying at Copenhagen University.
Within two years she completed the candidates magisterii degree in mathematics and physical science at Cambridge.
Inge Lehmann 1932. (Image: Wikimedia)
Career
In 1923, she accepted a position as an assistant to J.F. Steffensen, the professor of actuarial science at Copenhagen University.
In 1928, she became assistant to geodesist (a scientist who measures and monitors the Earth to determine the exact coordinates of any point) Niels Erik Nørlund, where she was assigned the task of establishing observatories in Greenland and Denmark.
It was during this time that her interest in seismology started to grow. She passed her exam in geodesy in 1928 and became a state geodesist and head of the department of seismology at the Geodetical Institute of Denmark, which was headed by Nørlund.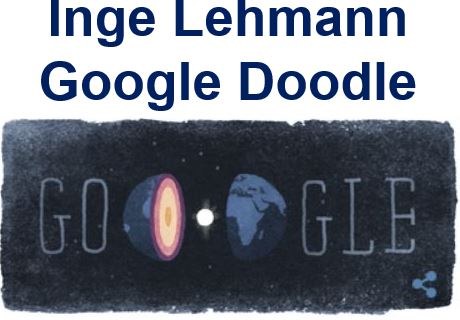 Google dedicated its worldwide Google Doodle to Inge Lehmann on 13 May, 2015, to celebrate the 127th anniversary of her birth. (Image: Google)
Her most important scientific breakthrough came while she was studying data on a major earthquake that had struck New Zealand in 1929. While comparing different sets of data she noticed that a number of seismic waves were bouncing off a boundary inside the Earth's core.
She suggested that this seismic discontuity 'shadow zone' was caused by an inner core made of different material. The scientific community quickly accepted her findings.
Scientists had previously though that the inside of the Earth consisted of a single molten sphere, rather than the inner and outer cores.
Awards and honours
During her life she received several honours:
1960 – The Gordon Wood Award.
1964 – The Emil Wiechert Medal. An honorary doctorate from Columbia University.
1965 – Gold Medal of the Danish Royal Society of Science and Letters.
1967 and 1938 – The Tagea Brandt Rejselegat.
1968 – An honorary doctorate from the University of Copenhagen.
1969 – Fellow of the Royal Society.
1971 – William Bowie Medal (the first woman).
1977 – The Medal of the Seismological Society of America.
1997 – The American Geophysical Union established the Inge Lehmann Medal, which honours "outstanding contributions to the understanding of the structure, composition, and dynamics of the Earth's mantle and core."
The asteroid 5632 was named Ingelehmann.
Google+ Video – Inge Lehmann Google Doodle