Institutional investors can boost a company's environmental and social performance, a new study found. In other words, they can be a force for good. Institutional investors own a major part of equity capital globally. Therefore, understanding how they affect the behavior of businesses they invest in is important.
An institutional investor is a firm that purchases and sells shares and other financial assets in enormous quantities.
Researchers from Italy, Canada, and the US, who studied more than 3,000 companies across 41 countries, showed they can be a force for good.
The researchers wrote about their findings in the Journal of Financial Economics (citation below). The authors were Alexander Dyck, Karl V.Lins, Lukas Roth, and Hannes F.Wagner.
Dyck is a Professor of Finance and Economic Analysis and Policy at the University of Toronto's Rotman School of Management. Lins is the Spencer Fox Eccles Chair in Banking and Professor of Finance at the University of Utah's David Eccles School of Business. Roth is an Associate Professor of Finance and Roger S. Smith Professor of Business at the University of Alberta's Alberta School of Business. Wagner is an Associate Professor in the Department of Finance at Bocconi University in Italy.
Factors that motivate institutional investors
The authors said their study shows that investors can have a positive and causal effect on companies' social and environmental performance. Not only do financial considerations motivate some investors, but also social and environmental attitudes.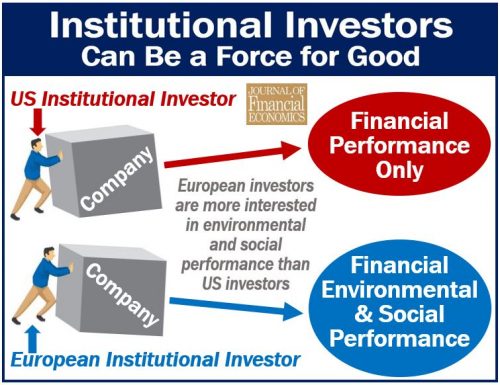 Regarding these findings, Bocconi University made the following comment in a press release:
"These surprising findings matter because they demonstrate that mainstream institutional investors care about E&S issues, and actively push firms to improve their E&S performance."
"While one might expect activist investors, such as environmental and social impact funds, to push for such changes, the study instead finds that a broad range of mainstream investors do this."
E&S stands for Environmental and Social.
E&S performance motivates institutional investors from European nations in particular. In other words, countries with social norms that consider E&S performance valuable.
In fact, European countries fill the top seventeen positions in a country ranking of attitudes regarding E&S issues.
The only institutional investors that have a positive effect on E&S regardless of country of origin are pension funds.
Institutional investors with a high E&S ranking improve their companies' environmental and social performance by 7.4% and 5.2% respectively.
Color of money matters
Prof. Wagner said:
"We show that the color of money matters, and this 'color of money' effect is unlikely to be without conflict."
Look at American mutual funds that invest in Dutch firms. Then compare them with Dutch mutual funds that invest in American firms. The Dutch mutual funds will successfully push the American firms towards better E&S performance. The US executives are likely to try to resist.
Dutch funds cater to the social norms of their Dutch constituents. Therefore, they will try to influence companies they invest in regarding their E&S performance.
The American mutual fund, on the other hand, won't exert such pressure on the Dutch firms they invest in. They won't pressure them as much because, in America, the social norms regarding E&S issues are relatively weak.
Prof. Wagner said:
"Interestingly, we find that institutional investors don't influence the E&S performance by buying shares of good companies and selling those of bad ones, but by engaging with firms they already own."
"Furthermore, their engagement is private, and they turn to public pressure only occasionally, to increase leverage in private negotiations."
Citation
Alexander Dyck, Karl Lins, Lukas Roth, Hannes Wagner, "Do Institutional Investors Drive Corporate Social Responsibility? International Evidence." Journal of Financial Economics, DOI: 10.1016/j.jfineco.2018.08.013.