Researchers from the London School of Economics and Imperial College Business School found that internet speed fuels property prices. Londoners are willing to pay up to eight percent more than the market price for properties in areas with very fast internet speeds, a new study reveals.
If people are willing to pay a property premium for fast internet services, high speed broadband should be rolled out in densely populated areas, say the authors.
Associate Professor Gabriel Ahlfeldt, at the London School of Economics and Political Science, Professor Tommaso Valletti and Dr Pantelis Koutroumpis, both at Imperial College Business School, carried out the first study of its kind, which examined the value of broadband to English households, focusing on whether there might be a link between house prices and broadband speeds or availability.
They gathered and analyzed statistical data from 1995 to 2010 and found that when internet speed doubles property prices across the country rise by an average of approximately 3%.
Even fast-to-faster speeds push up house prices
While the property value increases more when comparing to a slow connection speed, even an increase from 8 to 24 megabits per second pushes up house prices by over 1%.
In London the willingness to pay above-market prices for fast broadband is more evident, reflecting high internet usage in the nation's capital for both personal and professional reasons.
Associate Professor Ahlfeldt said:
"Speed matters. The European Commission has set a target by 2020 that every European citizen will need access to at least 30 megabits per second and at least 50 per cent of households should subscribe to internet connections above 100 megabits per second."
Professor Valletti added:
"The target is ambitious and suggests that private provision alone may not be able to supply fast enough connections to people across the whole country."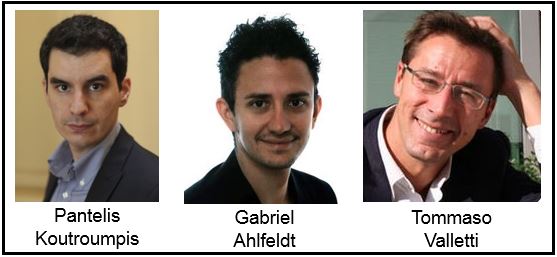 The research team.
Should governments provide universal access?
Internet connections in London and the rest of the UK are provided via ISPs such as cable and telecom suppliers. There is, however, mounting pressure on governments to intervene and make high speed broadband universally accessible.
While the benefits of rolling out fiber broadband infrastructure far outweigh the costs in towns and cities, it is not the case for rural areas, the authors say.
Assoc. Prof. Ahlfeldt says:
"In rural areas it would make more sense for governments to adopt less expensive fixed and mobile technologies that deliver decent and reliable speed. In urban areas a levy on landlords, who ultimately benefit from the improvements, could help saving taxpayers' money when rolling out fiber."