The U.S. International Trade Commission said that it is going to be investigating complaints filed by Samsung accusing Nvidia of violating some of its patents covering many of Nvidia's graphics chips and devices.
The complaint was originally made in November. It was in response to a previous court decision to look into a patent infringement complaint that Nvidia made against Samsung.
Chief administrative officer at Nvidia, David Shannon, said in a statement on the company's website:
"This is typical legal ping pong,"
"When we submitted that lawsuit, we also filed a second case in the International Trade Commission, seeking to block Samsung from shipping into the U.S. Galaxy phones and tablets that improperly use our patents. Predictably enough, Samsung went to the ITC last month to countersue us there, too, dragging along a dozen other small partners of ours who also have nothing to do with this fight. Today, the ITC announced that, just as it will hear our case against Samsung, it will allow Samsung's case against us to proceed."
He believes that Nvidia's ITC suit against Samsung is probably going to be the first one decided by the courts.
"Nvidia remains focused on ensuring that we receive fair compensation from Samsung for using our technology in Galaxy phones and tablets," Shannon wrote. "We won't allow ourselves to get sidetracked by the company's attempts to intimidate our partners who have nothing to do with the unlicensed use of our IP. We look forward to the court setting this right."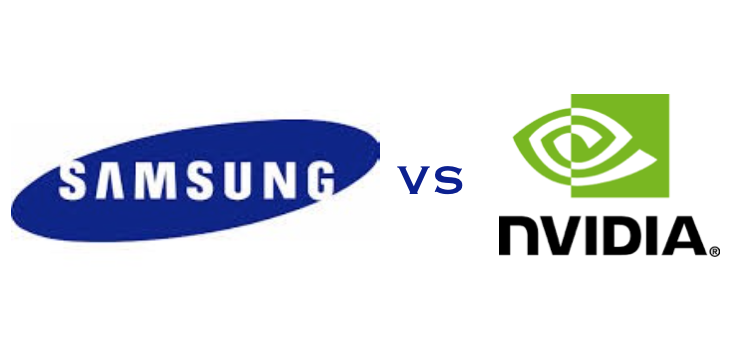 The whole battle stems back to when Nvidia sued Samsung and mobile-chip maker Qualcomm for infringing its graphics patents.
Nvidia made a request for the ITC to stop shipments of Samsung's best-selling smartphones and tablets into the US. These products include the Galaxy Note 4, Galaxy S5 and Galaxy S4 smartphones, as well as the Galaxy Tab tablets.
In retaliation to this Samsung filed a suit against Nvidia and 11 of its partners for infringing four patents involving chip structures, memory arrays and other chip-related technologies.
According to CNET, Samsung asked the commission "to permanently bar from the US dozens of Nvidia products, including its Shield tablet computers, GeForce graphics processors, Tegra mobile chips, Quadro graphics cards, Tesla accelerator cards, and Grid computing boards, as well as several partners' tablet computers and gaming consoles using Nvidia chips."