Japan has resumed whaling around Antarctic waters, a decision that has been condemned by the governments of Australia and New Zealand. However, the so-called 'scientific' ships may face a few obstacles to continue their Southern Ocean whale hunting.
The International Whaling Commission was informed by the Japanese Fisheries Agency that Japan would start whaling again during the 2015/16 season, in spite of a recommendation by the International Court of Justice in March 2014 that the country cease whaling altogether.
The International Court of Justice recommendation prompted Tokyo to cancel most of its whaling activities for the 2014/15 season.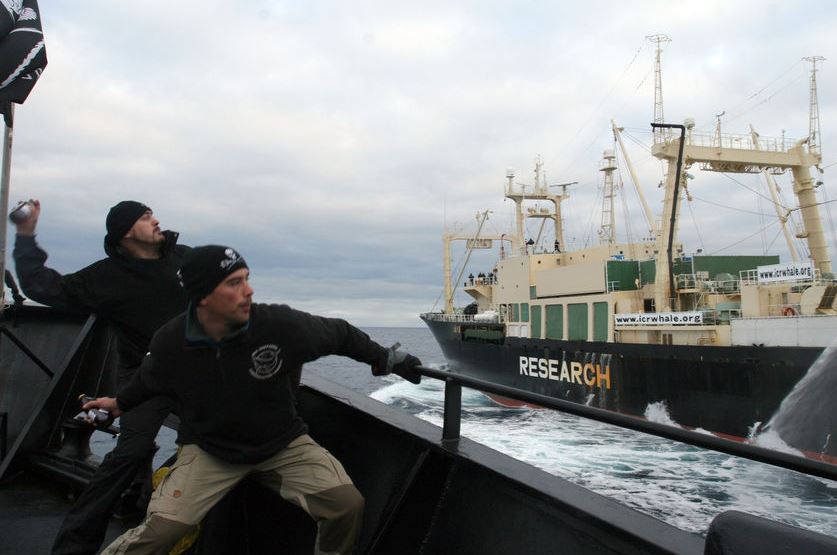 Sea Shepherd activists have often rammed Japanese whaling ships, thrown butyric acid onto their decks and sometimes even climbed on board. In the summer of 2014, a crew member aboard a Japanese whaling shot at Captain Watson, hitting his bulletproof vest. The incident was highlighted on the Animal Planet series Whale Wars.
No plans to chase Japanese ships
The Sea Shepherd Conservation Society, a non-profit, marine conservation organization, says it has no plan to chase the whaling vessels this year. It is currently focusing on the northern hemisphere.
New Zealand's acting Foreign Minister Todd McClay expressed:
"New Zealand's deep disappointment at the Japanese Government's decision. New Zealand is strongly opposed to whaling in the Southern Ocean. We call on Japan to take heed of the 2014 International Court of Justice decision and international scientific advice concerning their whaling activities."
"In early 2015, the International Whaling Commission's Expert Panel issued very clear and unambiguous recommendations that Japan postpone the lethal components of its research proposal."
According to the Japanese Fisheries Agency, its new hunting plan – which calls for reducing minke whale catches to 333, a reduction of two-thirds – is 'scientifically reasonable'.
According to members of the Sea Shepherd Conservation Society, this could mean nearly four thousand whales slaughtered over the next 12 years from east of the Ross Sea in Antarctica to the South Atlantic.
Greg Hunt, Australia's Environment Minister, said:
"We do not accept in any way, shape or form the concept of killing whales for so-called 'scientific research'."
Australia's Prime Minister Malcolm Turnbull had recently called on Japan to "cease its whaling operations in any time, in any season, in any year."
STUFF.co.nz quoted Michael Lawry, Sea Shepherd New Zealand director, who said regarding Japan's decision:
"We did anticipate that this may happen. They are breaking a bunch of rules here … they're going against world opinion … and they're shooting themselves in the foot diplomatically. The Government are going to have to step up … and start looking at sanctions. But I don't think they're going to."
Japan will become a 'pirate whaling nation' if it continues whaling despite the recommendation by the International Court of Justice, Mr. Lawry added.
Japan, which insists that eating whale is part of its food culture and that most whale species are not endangered, started its so-called 'scientific whaling' in 1987, not long after an international whaling moratorium took effect.
In April 2013, Japanese authorities announced that the industry's whaling haul from the Southern Ocean hit a record low. They blamed 'unforgivable sabotage' by Sea Shepherd activists.
Sea Shepherd Video – Whales around Australian waters
This was a Sea Shepherd appeal two years ago to protect whales in the seas around Australia. There is fear that the fate of these large aquatic mammals will worsen again.