Japanese GDP growth was revised upward to 1.6% from 1.5% for the first quarter of 2014, which translates into 6.7% per year instead of 5.9%, according to the Cabinet Office. The largest expansion in over two years was due to stronger business investment. The upward revision surprised most analysts.
Businesses and private consumers increased their spending ahead of April's sales tax hike from 5% to 8%, the first tax increase since 1997.
Massive public debt
The tax hike was an attempt by Mr. Shinzo Abe's administration to bring down public debt, which at 230% of GDP (gross domestic product) is the highest among the advanced economies.
The Cabinet Office's revised figures show that business investment increased by 7.6% in Q1 2014, instead of 4.9% while consumer spending rose by 2.2% and not 2.1%.
The government's announcement in 2013 of an April 2014 sales tax hike triggered greater business and consumer spending, which in turn helped push up GDP growth. Private consumption, like in Western Europe and the United States, represents approximately 60% of Japanese GDP.
Q2 2014 growth expected to be slower
Now that the April hike has been implemented, most economists expect Q2 2014 GDP to grow more moderately or even shrink. April retail sales in Japan were 4.4% down on April 2013.
Japan Today quoted Capital Economics, which wrote "Output will surely shrink this quarter as consumers rein in spending after the consumption tax hike. However, the slowdown in domestic demand should lead to a decline in import volumes, so net exports should finally add to growth. More importantly, business surveys started to recover last month, which suggests that any weakness should prove short-lived."
Japan's trade deficit quadrupled in March to ¥1.446 billion ($14.1 billion) from ¥356.99 billion($3.48 billion) in March 2013.
The April sales tax increase should also help push up inflation nearer the Bank of Japan's target of 2% per year. Japan has been struggling with declining prices for the last twenty years.
Before the tax announcement businesses and consumers had postponed their purchases as they waited for better deals later on (they would expect prices to fall).
Abenomics producing results
Ending the spiral of postponed purchases and falling prices has been one of the key aims of the Japanese government, which has implemented a series of measures – known as "Abenomics".
Abenomics appears to be working – consumer prices, which rose by 3.2% in April 2014 compared to April 2013, have increased for 11 successive months.
Bank of Japan Deputy Governor Kikuo Iwata said in comments to parliament "The Japanese economy will continue growth above its potential rate as a trend as exports turn up and domestic demand remains firm."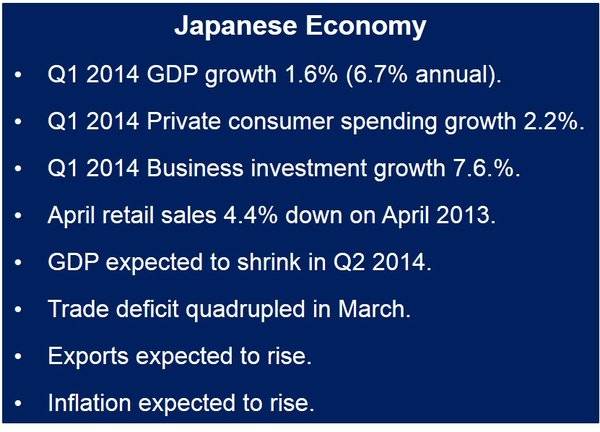 Mr. Abe is hoping growth will pick up again during the second half of 2014.