Japanese inflation rose to (annualized) 1.3% in December, according to Statistics Japan, higher than forecasts and signaling perhaps that Prime Minister Shinzō Abe's policies, known as 'Abenomics' are starting to work.
The Bank of Japan has an inflation rate target of 2%, which is considered enough to prevent the economy from sliding back into a deflationary recession. The December Japanese inflation figure brings the country closer to that target.
The Japanese inflation rate for December was the highest in over five years. Energy prices have risen steeply. Japan buys nearly all of its oil and gas from overseas.
Since closing down its nuclear industry following the Fukushima disaster, the country has been consuming more oil and gas.
Before taking office in December 2012, Mr. Abe, who had been prime minister in 2006/7, announced plans to kick-start the country out of decades of deflationary stagnation.
Unemployment fell in December to 3.7%, its lowest level in six years. The ratio of jobs to job seekers increased to 1.03, the first time it has been more than 1 since October 2007. Factory output rose by 1.1% in December compared to November.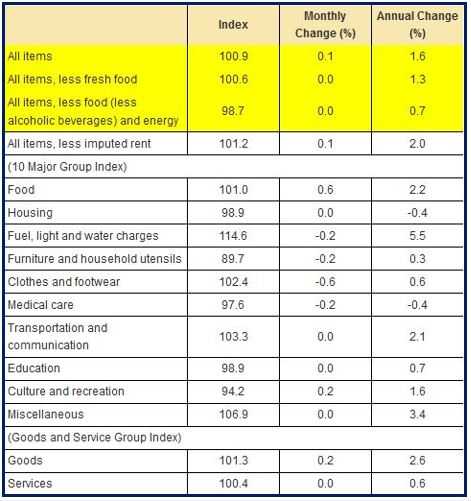 Japanese inflation, December 2013 (Source: Statistics Japan).
Deflation held the Japanese economy down
For more than two decades Japan has been struggling with falling prices (deflation). When consumers know that prices are likely to fall, they spend less, waiting for them fall more before making a purchase. This behavior pushes prices further into a downward spiral.
In a deflationary environment people with debts, such as mortgages, also end up spending less because their wages typically go down, making their monthly debt repayment installments account for a higher percentage of their income, this leaves them with less disposable income.
What is Abenomics?
Abenomics includes the following measures:
Aggressive quantitative easing by the central bank (Bank of Japan).
Boosting private investment.
Increasing public infrastructure spending.
In 2013, the Japanese yen weakened in value by 18% against the US dollar.
According to The Economist Abenomics is a "mix of reflation, government spending and a growth strategy designed to jolt the economy out of suspended animation that has gripped it for more than two decades."
Spring sales tax and wage negotiations
A new sales tax (consumption tax, VAT) comes into force in April. Economists fear it may dampen consumer spending and undermine the current economic recovery.
The Prime Minister is now under pressure to boost corporate wages in response to the effects of the higher sales tax and rising prices. In Japan, major employers negotiate wages every spring.
Bloomberg News quoted Masamichi Adachi, a senior economic at JPMorgan in Tokyo, who said "Consumers will be hit in the pocket from rising prices and the upcoming sales-tax hike. The onus is now on companies to convert their profits into wage increases and capital spending."
Wages have not keep up with price increases, resulting in poorer spending power among consumers. Basic wages declined by 0.6% in November 2013, compared to November 2012, the eighteenth successive month of shrinking salaries.
In an interview with the Financial Times Takuji Aida, an economist at Societe Generale, said "It looks increasingly likely that improvement in demand for labour will push up wages."