Japanese loans have been boosted, with the Bank of Japan expanding two lending programs in an attempt to encourage GDP (gross domestic product) expansion, which is growing too slowly.
A loan facility in one program has been doubled to ¥7 trillion.
According to Japan's central bank, the country's banks are now able to borrow twice as much as before, and at very low rates under the second program.
Expiry periods for both Japanese loans programs have been extended by 12 months, the Bank of Japan added.
The changes in both Japanese loans facilities were approved by unanimous vote during a Monetary Policy Meeting held today.
Worryingly slow Q4 2013 growth
This is the first measure taken by Japanese monetary authorities since much lower-than-expected GDP growth figures for Q4 2013 were published yesterday. The economy only expanded by 1% (annualized) during that period, much lower than the 2.8% that had been predicted by economists in a number of polls.
The disappointing GDP figures have made economists within the country and abroad wonder whether Prime Minister Shinzō Abe's economic stimulus program, known as Abenomics, can really trigger sustainable growth.
Part of the strategy has been to devalue the yen so that exports may rise faster than imports. The yen dropped in value by 18% in 2013, but imports increased much faster than exports.
In an online press release, the Bank of Japan informed:
"Japan's economy has continued to recover moderately, and a front-loaded increase in demand prior to the consumption tax hike has recently been observed. Overseas economies – mainly advanced economies – are starting to recover, although a lackluster performance is still seen in part."
"In this situation, exports have generally been picking up. Business fixed investment has been picking up as corporate profits have improved. Public investment has continued to increase."
Consumption tax rise coming in April
Japan has a massive public debt. In an attempt to reduce this debt there will be an increase in consumption tax (sales tax, VAT) from April 1st from 5% to 8%. Economists predict this tax hike will significantly dampen consumer spending, which in turn will further undermine a very slowly growing economy.
The Bank of Japan wrote:
"With regard to the outlook, Japan's economy is expected to continue a moderate recovery as a trend, while it will be affected by the front-loaded increase and subsequent decline in demand prior to and after the consumption tax hike."
Bank of Japan expected to take further measures
Economists are predicting further measures by the country's central bank to help mitigate the impact of the consumption tax rise.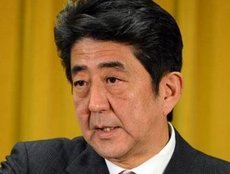 In an interview with the BBC, Marcel Thielant, a Japan economist at Capital Economics, said "It was no surprise that the Bank of Japan did not change course at today's meeting, but we still think that more easing will eventually be required."
The Bank of Japan also announced that:
It will conduct market operations so that the monetary base will rise annually by ¥ 60-70 trillion.
Japanese government bonds will be purchased by the central bank so that their outstanding amount increases annually by about ¥50 trillion.
Exchange-traded funds and Japan real estate investment trusts will be purchased by the central bank so that their outstanding amounts grow annually by about ¥1 trillion and ¥30 billion respectively.