Tony Blair admitted that Jeremy Corbyn, the Labour Party leader, may become Prime Minister after Prime Minister Theresa May called an election, ran a terrible campaign, and won by the skin of her teeth on June 8th, 2017. Mr. Blair warned that if Jeremy Corbyn, a hard-left politician, became Prime Minister and put his policies into action, he could seriously damage the UK's economy following BREXIT (BRitain EXITing the European Union).
In a BBC Newsnight interview with the programme's editor Ian Katz, Mr. Blair said he has had to re-assess his view that British general elections can only be won by the party that holds the centre ground after the Labour Party's surprising advance in June.
Mr. Blair explained that for most of his political life, he has said that the centre ground is the right way to go, in fact, the only way to win an election.
During the interview, Mr. Blair said:
"I have to qualify that now. I have to say, 'no, I think it's possible you end up with Jeremy Corbyn as prime minister'."
"You can't rule anything out in today's politics, but it doesn't stop me believing that if we deliver BREXIT and at the same time are delivering the programme he has at the moment, unreconstructed, unchanged, we will be in for a very very difficult time as a country. I still think the surest route is through the centre."
Mr. Blair served as Prime Minister from 1997 to 2007 – he won three successive general elections, something the Labour party had never achieved before.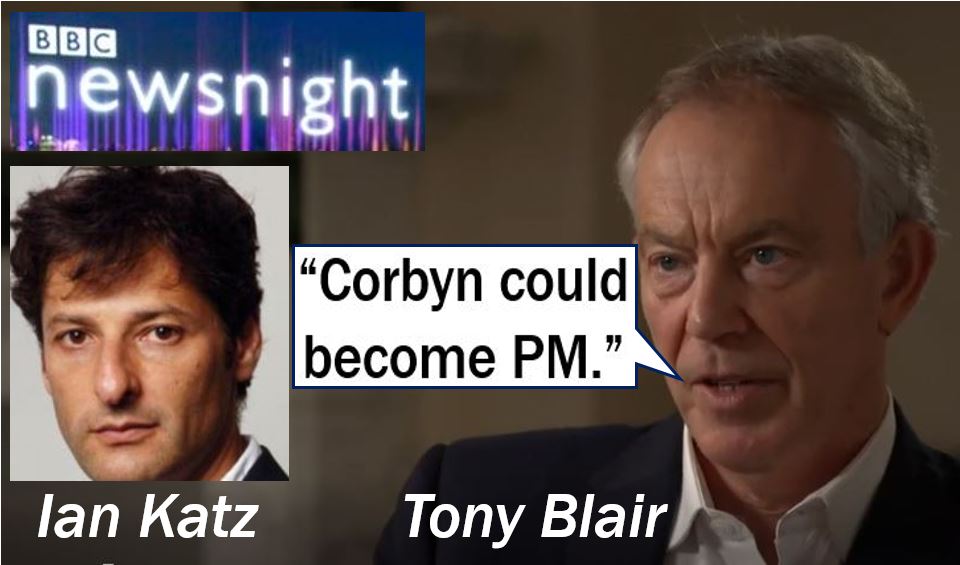 "You cannot rule anything out in today's politics," Tony Blair told Ian Katz during a BBC2 Newsnight interview. He now admits that the current Labour leader Jeremy Corbyn could end up as Prime Minister. (Image: adapted from BBC 2 Newsnight website)
Jeremy Corbyn impressed Blair
In a Sky News interview with Sophy Ridge, Mr. Blair said that Mr. Corbyn's temperament during the election campaign impressed him, as did the Labour leader's ability to mobilize young Britons.
Regarding voting attitudes during June's election, Mr. Blair added:
"What I don't buy is two things: First of all, I think a lot of people voted Labour not because they thought he was about to be prime minister and Labour was about to win, but because they were horrified at the Tory campaign and they wanted to put the brakes on it."
"Secondly, I think although significant numbers of people for sure voted for him with enthusiasm, I think there were an awful lot of people who voted for him because they couldn't stomach the Tories and wanted to make a point."
"And I'm sceptical myself that this is a coalition that's capable of holding, particularly if it becomes clear that we are really in the same position as the Tories on Brexit."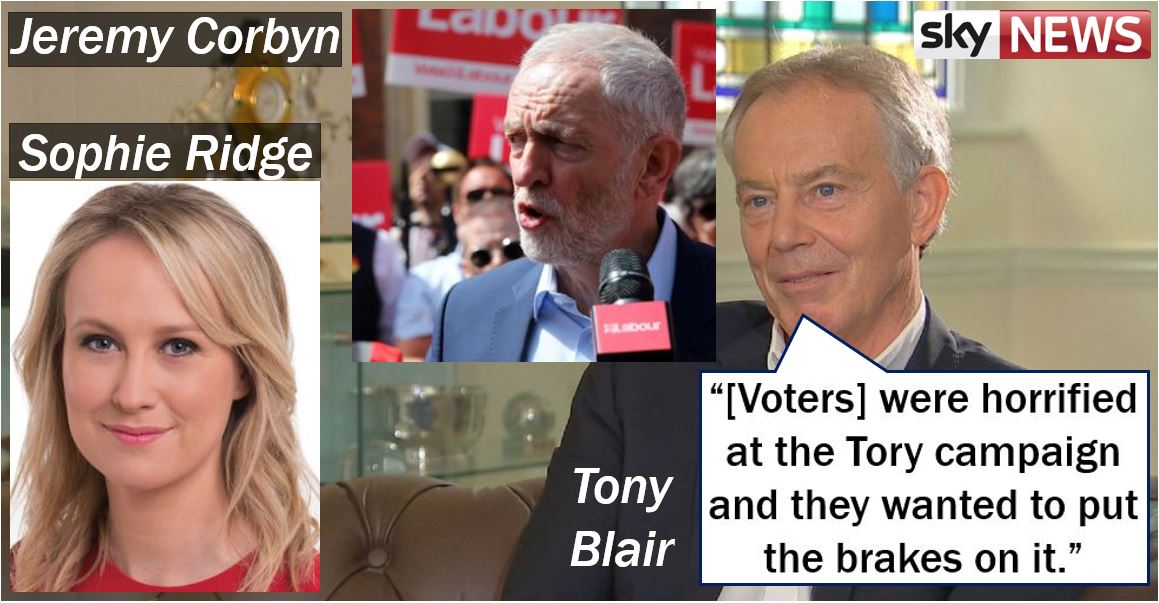 Rather than a voting for Jeremy Corbyn, Mr. Blair wondered whether voters were protesting against the Tory campaign. (Image: adapted from Sky News)
Blair feels sorry for May
Mr. Blair says he feels sorry for Prime Minister May, who he described as somebody who is currently surrounded by politicians eager to 'throw her off the ledge'.
"I know what it's like to do the job. I think it's a very unsatisfactory situation where you've got the Prime Minister surrounded by people who are just waiting for the moment they decide to throw her off the ledge. I think there's something a little unseemly about all of it really," Mr. Blair said.
Although he disagrees with Ms. May regarding Brexit, he believes she realy does have the best interests of her country at heart. However, he felt that the country at the moment needs less followership and more leadership.
Regarding being Prime Minister, Mr. Blair said:
"When you've done the job, it's a small club of people, you realise it's very tough. It's a great privilege to do it, of course, but you're taking decisions all the time, every day, and you're under enormous pressure and, yeah, the sharks are always circling."
BREXIT a huge mistake, says Blair
Mr. Blair's comments came as he made his latest intervention into domestic politics, after urging MPs (Members of Parliament) to fight to reverse last year's referendum result.
Although he won three consecutive elections and was once seen as one of the most gifted political operators in modern history, Mr. Blair admitted that two events in 2016 took him completely by surprise:
1. The BREXIT referendum result.
2. The Donald Trump victory in the United States.
Mr. Blair has made a number of appearances calling for BREXIT to be halted because of the damage he believes it will do to the United Kingdom.
Regarding BREXIT, Mr. Blair said:
"[BREXIT is] a disastrous mistake for the country. I think it's relegating us, diminishing us, it's going to do us damage economically, it's going to do us damage politically."
Jeremy Corbyn at the Glastunbury Festival 2017 during this year's election campaign. Tony Blair, Nigel Farage and several other politicians were impressed at Corbyn's ability to mobilize young Britons. (Image: adapted from radiox.co.uk)
In the Tony Blair Institute for Global Change website, Mr. Blair pointed out that just before the 2016 referendum, the UK had the fastest-growing economy in the G7 – today it is growing slower than all the others.
Mr. Blair added:
"The international investment community is negative on us. The savings rate is at its lowest in 50 years. Incomes are stagnating. The international reputation of Britain is rapidly losing altitude."
"There is a daily drip of worrying news on Brexit. The Grenfell Tower tragedy sums up for many the sorry condition of our social cohesion."
"There is a slightly anarchic feel to our politics intensified by the realisation that the Government is weak and drifting. We feel like a country which has lost its footing and is stumbling; but seemingly with no choice but to stagger on."
He agrees that if the will of the people does not change, then BREXIT is inevitable. However, as more citizens become aware of the harms associated with leaving the European Union, he is convinced that many voters who chose LEAVE would tick the REMAIN box in another referendum.
Video – Jeremy Corbyn could become PM
In this BBC 2 Newsnight video, Tony Blair tells Ian Katz that he now accepts that Labour Leader Jeremy Corbyn could well be elected PM on a left-wing platform.