Johnson & Johnson or J&J must pay $4.7bn in damages to twenty-two women. They claimed that the company's talc products made them get ovarian cancer.
In a St. Louis, Missouri court, the jury initially awarded $550m in compensation. It subsequently added $4.1 in punitive damages.
'Compensation' aims to redress direct and immediate harm, such as loss of earnings, emotional stress, etc. Punitive damages act as a punishment or deterrent.
J&J has been battling approximately nine-thousand lawsuits involving Johnson's Baby Powder.
Talc – ovarian cancer
During the six-week trial, the claimants and their families said that after using Johnson's Baby Powder, they developed ovarian cancer. In other words, they blame the talc for their cancer.
In a trial, the claimant is the person who is making a claim, i.e., the person who is suing.
J&J made the following statement in a press release:
"Johnson & Johnson is deeply disappointed in the verdict, which was the product of a fundamentally unfair process that allowed plaintiffs to present a group of 22 women, most of whom had no connection to Missouri, in a single case all alleging that they developed ovarian cancer.'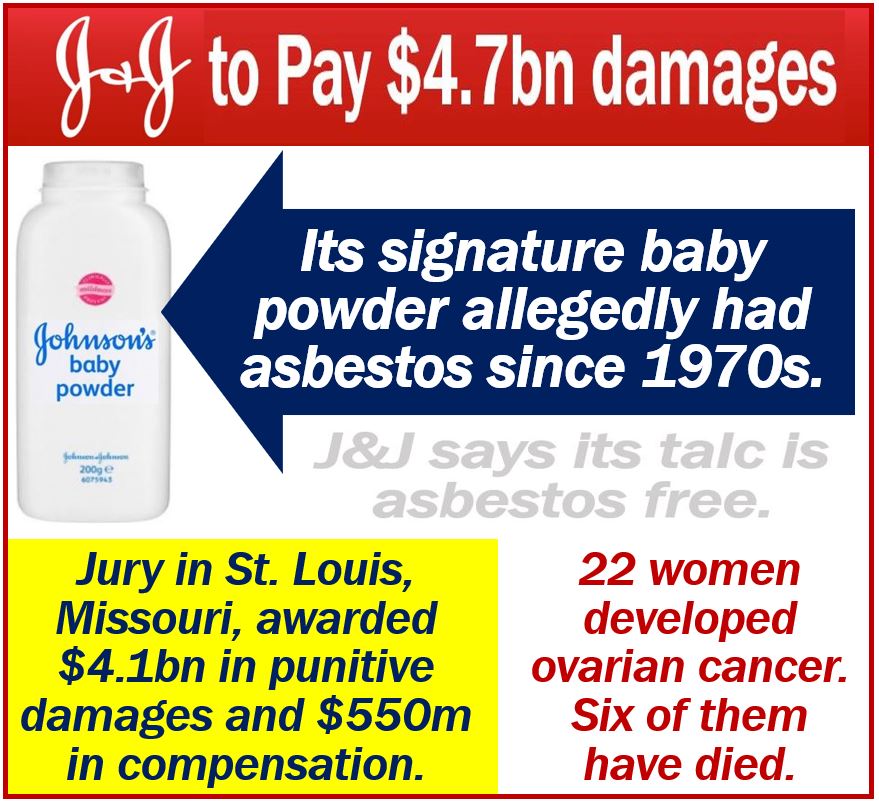 Talc – asbestos
The claimants' lawyers accused the company of knowing its talc had asbestos contamination. In fact, they claimed that the company knew about this since the 1970s but never told consumers.
Of the twenty-two claimants who developed ovarian cancer, six have died from the disease.
Talc or talcum is a clay mineral. It consists of hydrated magnesium silicate, i.e., H2Mg3(SiO3)4 or Mg3Si4O10(OH)2.
One particular problem with talc is asbestos. Underground talc and asbestos ore deposits are often located in the same place.
Asbestos – a health hazard
Exposure to asbestos can increase the risk of developing cancer, including ovarian cancer.
No asbestos – says J&J
J&J, however, insisted that none of its products ever contained asbestos. They also denied that their talc caused ovarian cancer.
In its press release, J&J also said:
"Johnson & Johnson remains confident that its products do not contain asbestos and do not cause ovarian cancer and intends to pursue all available appellate remedies."
"Every verdict against Johnson & Johnson in this court that has gone through the appeals process has been reversed and the multiple errors present in this trial were worse than those in the prior trials which have been reversed."
According to the prosecution lawyer, J&J and the FDA used defective testing methods. FDA stands for Food and Drug Administration. The FDA is the US regulatory agency in charge of drugs, tobacco products, foods, cosmetics, and medical devices.