Sustainable, balanced and job-rich economic growth should be the medium-term aim of countries' focus as the global economy strengthens, the International Monetary Fund Financial Committee (IMFC) stressed yesterday.
Chair of the 29th IMFC meeting at Washington D.C., Singapore Finance Minister Tharman Shanmugaratnam, said:
"We need a new balance in policies that meets the needs of a new phase of the economic recovery globally.This doesn't mean a sudden withdrawal of macroeconomic policies – especially monetary policies – that support the recovery. But it does mean much greater focus on structural reforms."
Old and new risks exist today
The IMFC highlighted some key areas that merit greater attention. Apart from the need for structural reforms, such as improving the functioning of labor markets, strengthening banking systems, and repairing balance sheets, Tharman cited some key risks to the world economy.
Risks to financial stability – new ones as well as old ones – are of particular concern, such as an alarming rise in corporate debts reports in some countries; debts that are not matched by investment growth.
Emerging markets continue to be vulnerable to unstable capital flows, which is partly due to a change in the structure of global finance. "There is not just a higher volume of capital flows, but also a change in the composition of these flows," Tharman pointed out.
Geopolitical risks also need close monitoring, Tharman added.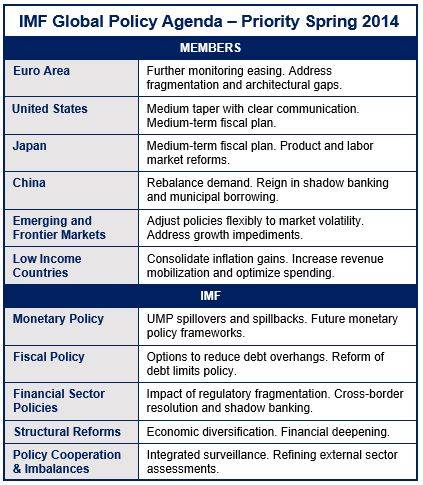 (Source: IMF Managing Director's Global Policy Agenda, 2014)
Quality, not just quantity of growth important
Christine Lagarde, the Managing Director of the IMF, stressed that the global recovery needs to be sustained through the pursuit of more inclusive and better balanced growth. Higher quality growth takes into account environmental degradation and climate change.
Lagarde said:
"We've worked on the removal of energy subsidies; we will soon be publishing work on the setting of the right price for energy."
IMF governance reform delay
Lagarde and Tharman both expressed regret that the IMF quota and governance reforms agreed four years have still not advanced. Tharman said "These reforms to the Fund are not just institutional reforms, they're reforms that will enable us to have a safer and better world, because the Fund provides critical public goods."
There is "significant goodwill" among ministers to find a way forward on the quota issue, Tharman said in a G-20 press conference on April 11th. He added that there is agreement across all nations on the absolute importance of a strong and adequately funded IMF.
The IMFC agreed on an end-2014 deadline to complete the 2010 reforms. If it is not met, the IMF says it will develop options for next steps.