A GSK Poland corruption investigation is underway, according to the BBC's Panorama program "Who's Paying Your Doctor?" A GSK regional manager and eleven doctors have been charged with corruption between 2010 and 2013.
According to a GSK (GlaxoSmithKline) former sales representative, doctors were paid money to promote Seretide (fluticasone/salmeterol), used in the treatment of asthma and COPD (chronic obstructive pulmonary disease). Seretide is known as Advair in the US and Canada.
The company says that so far in the GSK Poland corruption investigation, one employee has already been disciplined and "is cooperating with investigations."
Update May 28th, 2014: GSK's commercial practices are being investigated by the Serious Fraud Office, UK.
GSK may have broken British and American laws
GSK, which is based in the UK and has offices and plants in the US, may have violated the UK Bribery Act as well as the US Foreign Corrupt Practices Act if the allegations are proven. Countries with bases in either the UK or US are not allowed to bribe public officials overseas.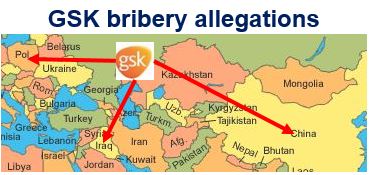 First China, then Iraq, now a GSK Poland corruption probe. Will there be more?
According to the BBC, Jarek Wisniewski, who used to be a GSK sales rep in Lodz, Poland, said "There is a simple equation. We pay doctors, they give us prescriptions. We don't pay doctors, we don't see prescriptions for our drugs. We cannot go to doctors and say to them, 'I need 20 more prescriptions'. So we prepare an agreement for them to give a talk to patients, we pay £100 ($167), but we expect more than 100 prescriptions for this drug."
GSK Poland corruption disguised as educational grants
Officially the payments were made for educational purposes. However, Wisniewski said doctors understood clearly that GSK expected a certain number of prescriptions in return for the payments. "It's a bribe," he said.
The Lodz public prosecutor found evidence of bribery in over twelve health centers. None of them had any evidence of patient education.
A spokesman for the public prosecutor, Krzysztof Kopania, said "We have evidence that in more than a dozen cases it was a camouflaged form of a bribe. In return for the financial gains the doctors would favor the product proposed by the pharmaceutical company and they prescribed that medicine."
Payments for fictitious lectures
One doctor has already admitted having received money (£100) for a lecture he had never given. He claimed GSK pressured him into accepting the bribe. He has been given a suspended sentence and fined. "They kept tempting me, and I am just a man," the doctor told the Panorama program.
According to GSK, it had a training program run by doctors in Poland from 2010 to 2012 to help improve medical training in respiratory disease and raise diagnostic standards.
In a press release, GSK wrote:
"Training on proper diagnostics for medical personnel and group meetings for patients were organized as part of this program. These sessions were delivered by specialist healthcare professionals who, based on contracts signed with GSK, received payments appropriate to the scope of work as well as their level of knowledge and experience. The provision of sessions under this program was agreed with the Polish healthcare centers."
"Following receipt of allegations in 2011 regarding the conduct of the programme in the Lodz region, GSK has investigated the matter, using resources from both inside and outside the company. The investigation found evidence of inappropriate communication in contravention of GSK policy by a single employee. The employee concerned was reprimanded and disciplined in 2011. We continue to investigate these matters and are co-operating fully with the CBA (anti-corruption agency in Poland)."
Alleged GSK corruption practices in other countries
Another corruption investigation involving GSK is underway in Iraq. The company is accused of hiring sixteen state-employed doctors and pharmacists as paid sales reps.
Regarding the Iraq probe, a GSK spokesman said:
"We are investigating allegations of improper conduct in our Iraq business. We have zero tolerance for unethical or illegal behavior."
Last year, authorities in Beijing, China, accused GSK of bribing doctors and officials in a price-fixing deal. Some executives were detained.
Video – GSK Poland corruption investigation
Written by [google_authorship]