After John Lewis' boss, Andy Street, told an audience of entrepreneurs that France was sclerotic, hopeless, downbeat, and investors should pull their money out of the country ASAP, he issued an unreserved apology for what he described as a "tongue-in-cheek" remark.
Mr. Street had also said that nothing works in France, "and worse, nobody cares about it."
Mr. Street was clearly in a bizarre mood on Thursday. He had just returned by train from Paris where he had received an award at a retail conference. He described the trophy to his audience as "made of plastic and frankly revolting." The trophy, which he thought was made in France, had actually been made in London by Berry Place.
When describing his London-Paris-London Eurostar train journey, he said:
"You get on Eurostar from something I can only describe as the squalor pit of Europe, Gare du Nord, and you get off at a modern, forward-looking station [St Pancras]."
Mr. Street's insensitive and cruel comments, given that thousands of French shoppers spend money at his stores in the UK, and one should not be so openly rude about other countries anyway, not only sparked fury within the sizable French community in London and across much of France, but also fueled a xenophobic reaction from some British tabloid newspapers.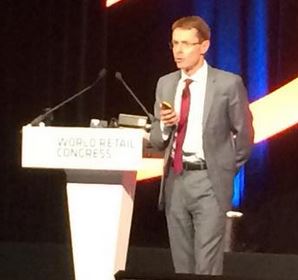 Andy Street receiving his award at the World Retail Congress in Paris last week.
The Mail wrote that Mr. Street was forced to make a groveling apology to the French. The newspaper then went on to quote a string of prestigious people and organizations who supposedly back the remark. It quoted the head of the Institute of Directors who is alleged to have said that France is living on borrowed time, and a leading commentator who describes the French as 'bone idle'.
Jean-Louis Missika, a deputy Paris mayor who is in charge of the city's development and attractiveness to investors, said "What he says is false and idiotic. As we say, everything excessive is exaggerated, but then it seems French bashing is all the fashion 'chez vous' (in your house, i.e. UK)."
Mr. Missika added that last year Paris received more tourists than London.
Ann Kenrick, who works at the Franco-British Council, said the unfortunate remark demonstrates the "festering antagonism with the French and France from the British."
Mr. Street's remarks were made on Thursday in front of start-up entrepreneurs were waiting to find out who the winner of the JSAB 2014 was, a John Lewis competition for startup enterprises. It was won by an Australian business.
For John Lewis, the French bashing could not have come at a worse time. The retailer is about to launch a French-language version of its website, where customers will be able to pay in euros.
One week ahead of French Minister Manuel Valls' visit to London, the French Embassy said in a statement:
"Saying that nothing works in France shows how wide of the mark those comments are. Everyone who has lived in France knows that it enjoys world-class public services. Public transport for example is excellent, and at a price that Mr Street is unlikely to find in many countries. People working in France enjoy one of the best healthcare systems in the world. And ultimately, workers' average productivity is higher in France than in many other developed countries."
"Prime Minister Manuel Valls will deliver a speech at the Guildhall on Monday. If Mr Street takes the time to listen to it, he will find out that far from being sclerotic, France is engaged in wide-ranging structural reforms. France is the fifth biggest economy in the world, the second in Europe. It would be senseless for any major international business to overlook such a market."