Jumping Bean Coffee supports a complaint to the Competition Bureau against Keurig Green Mountain. Coffee giant Keurig's anti-competitive practices should not be allowed to continue, Jumping Bean Coffee says.
John LeDrew, owner of Jumping Bean Coffee, is in Ottawa showing support for Club Coffee's CEO John Pigott. Mr. Piggot has filed a $600 million lawsuit against Keurig, arguing that Keurig, the American manufacturer of coffee brewers for both home and commercial use, is pushing up prices and undermining consumer choice.
Put simply, Club Coffee says Keurig has created a monopoly.
In a speech at the Economic Club of Ottawa on Thursday, John Pigott said:
"(Keurig's practices are) designed to prevent consumers from using their choice of coffees, teas and hot beverages from Club Coffee and other competitors. Canadians know we deserve an open market with real choice"
Club Coffee is seeking compensation from Keurig, as well as punitive damages plus a court order to permanently bar the coffee giant from alleged violations of several federal competition, consumer and trade-mark laws.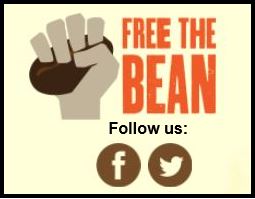 The Free The Bean social media campaign has attracted thousands of consumers. The aim being to reach out to government representatives in support of competition and consumer choice.
Keurig accused of killing competition
According to Mr. Le Drew, Keurig's uncompetitive practices, if they continue, will mean that his business' plans for expansion will be "dead in the water."
Jumping Bean Coffee says it plans to launch its own versions of single-serve coffee, under the brand names Lighthouse Roast, East Coast Roast, Screech and Deep Water Dark.
Unlike Keurig's plastic cups, Jumping Bean Coffee's cups are biodegradable. They will feature a teabag-like soft bottom, and a biodegradable paper lid.
Of concern is Keurig's 2.0 brewing system. Le Drew says Keurig has changed the game by putting 2.0 technology out there and locking it down.
Jumping Bean Coffee would like to build a $2 million facility to expand its portfolio of whole bean and ground product lines. This can only happen if the market is truly free, says Le Drew.
Le Drew said:
"There's no way for us to be able to invest in that kind of infrastructure and do a compostable pod, and the machines are really expensive."
Ninety percent of Canada's single-serve coffee pod market is controlled by Keurig. The number of Canadians with single-serve brewers has more than doubled since 2012.
Keurig's K Cup patent expired two years ago. However, the Burlington, Massachusetts-based coffee giant has taken several measures to make sure it continues monopolizing the market, including forcing retailers to sign exclusive deals.
Keurig has supplied retailers with its 2.0 brewing system which only works with its own cups that have a special ink.
Retailers are afraid of taking on other producers' coffees in case they lose the ability to have Keurig brewers or coffee.
While not joining the lawsuit, Le Drew has filed a complaint along with five other companies with the Competition Bureau. LeDrew said that Keurig's business practices are not dissimilar to somebody who changes the locks on your house.
LeDrew said:
"I cannot get my product into national retailers if they're going to lock down the sole supplier and sole manufacturing piece."
Vancouver's Granville Island Coffee CEO, Darren Footz, said
"We are already seeing Keurig's strategy at work with our office coffee service customers who are forbidden from dealing with us. That's hardly a free market."