The Loonie continued its downward slide as concerns regarding crude oil oversupply sent prices tumbling. The Canadian dollar fell 0.3 of a cent on Thursday to 88.07 (US$).
The New York Mercantile Exchange had December crude oil contracts at $75.18 per barrel, or $2 down on the day.
While crude inventories fell more than expected, supplies of gasoline increased considerably.
US oil supplies fell 1.7 million barrels per week, according to the Energy Information Administration (EIA), while gasoline inventories increased by 1.8 billion barrels. The EIA also informed on Thursday that rail shipments of oil and petroleum products through October were 13% up compared to October 2013.
Saudi Arabia cut output to 9.6 million barrels a day, which contributed towards OPEC's crude production decline of 226,400 barrels per day to 30.25 million barrels.
Despite the falls, production is still higher than current demand.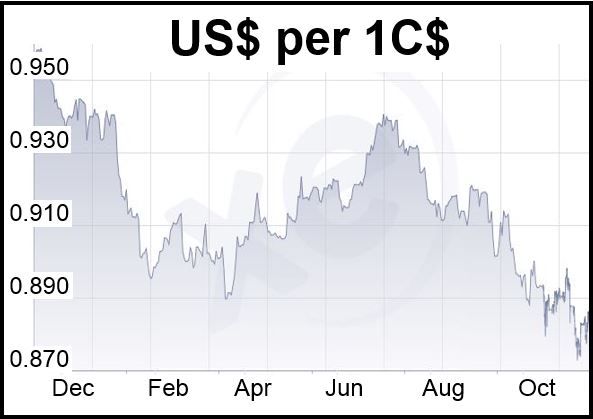 Since the summer, the Loonie has been falling against the US dollar. (Source: XE.com)
Canada and Australia are the two advanced economies who currencies rise and fall in parallel to commodity prices, as do the currencies in the emerging markets of Latin America as well as Russia.
On Thursday, Latin American currencies also weakened, with Brazil's real getting a double whammy from both commodity prices and uncertainty regarding its future economic policy.
The US dollar weakened on Thursday against the euro after William C. Dudley, President of the New York Federal Reserve said it was more dangerous to raise interest rates too early than too late.
With the British property market slowdown deepening, the pound sterling fell to its lowest levels in more than a year, reducing pressure on the Bank of England to push up interest rates.
The European Union's alarm regarding more Russian troops and military equipment allegedly entering Ukraine to help the rebel separatists, and talks about ramping up economic sanctions, sent the ruble into a more rapidly declining spiral.