Keywords are the coordinates you use to navigate the Internet.
They're the magic ingredient to every successful marketing strategy and the most important thing you should be doing is monitor your keywords.
What is keyword monitoring?
Keyword monitoring is a multi-purpose process, yielding different results based on initial goals in the first place. In terms of SEO and PPC campaigns, keyword monitoring involves tracking your brand's position in Google results against rivals for any given non-branded keywords. The whole process is about brand placement and creating performance benchmarks, which are then improved through SEO strategies.
However, keyword monitoring also ties in with larger marketing activities such as monitoring the brand as a whole. Here keyword monitoring deals with identifying social sentiment towards the brand. For social media listening, keyword monitoring establishes the performance of posts and campaigns.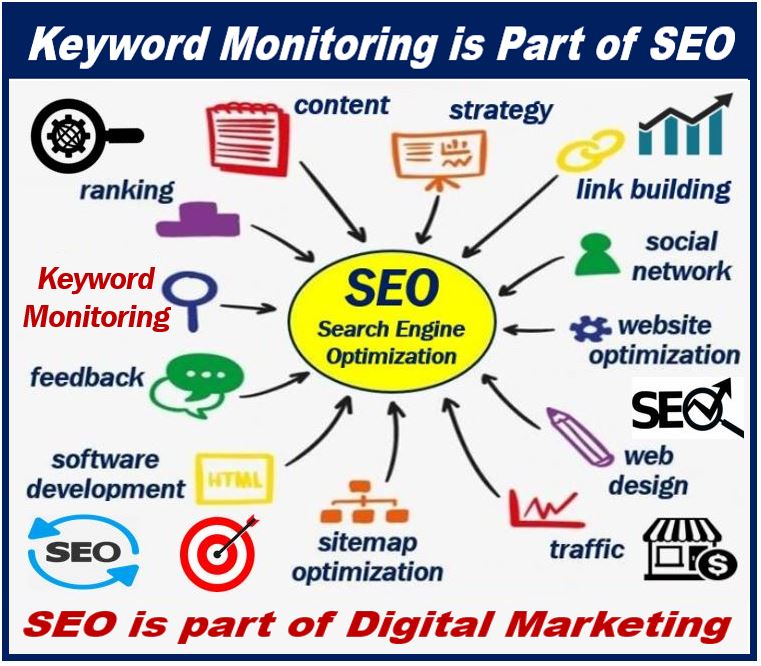 How to easily track keywords
Before you even start looking for a tool, you should already know your needs and keywords mix. This will determine what sort of tool you need. The search on Facebook, Twitter and Instagram works to some capacity, but you're going to need a lot more insight. This is where specific tools like Mention.com and Hootsuite come in. You have a lot of features at your disposal to dive deep into metrics and create reports.
The issue is that not every business is going to have the budget for tools. A more budget-friendly solution is to invest in a good RSS feed reader. The current generation is quite versatile and can do quite a lot in monitoring both branded and non-branded keywords. Inoreader has made a lot of strides in providing users with fresh content and integrating the browser experience through a smart extension. RSS feed readers can syndicate content from a variety of platforms and are compatible with tools like Google Alerts.
What are some of the main benefits?
Reach the right audience
The greatest challenge an online business (or any business with a digital presence, really) faces is to reach its audience. Even smaller, localized markets have become competitive. There's only one viable strategy here and that's knowing your audience. If you don't already have a buyer persona, now is the time to really think about the profile of the right kind of customer, who will fall in love with your brand and return over and over and over again.
Through keyword research and monitoring, you can arrive at the right language to capture their full attention. Knowing what messaging is most effective from content to phrasing to their needs is going to shorten the distance between you and the right audience. Many brands suffer because they're not hitting the mark in targeting their content correctly.
Gain more popularity
Are people talking about you? What do they say? How are your products and services featured in other people's content?
This point has quite a lot to do with courting the right audience. Visibility, when harnessed, then transforms into popularity. That's perhaps the true marker of brand longevity. Through the branded keywords you're able to understand how popular you are.
Use that information to develop new strategies to increase the visibility of your brand name and generate social engagement on your social media.
Run better campaigns
Campaign performance can be tracked easily through keyword monitoring, because you've set up the right infrastructure. Ideally, your campaign has several hallmarks to generate engagement and leave a digital footprint to analyze later. The most popular hallmark is, of course, branded hashtags – a good way to track posts through social media listening. The best part is that you don't need a specific tool, but only logging into your social accounts.
Then there are other keywords, which are helpful to marketers. Product names, campaign slogans and other key industry phases. Ideally you want to trace what kind of impact your campaign has outside direct messages and mentions. The data speaks for itself during the campaign and its very end. Not only are you in an excellent position to gauge engagement now, but you have created the baseline for the next campaign.
Build a better online presence
I've already mentioned how competitive it's become to reach your audience online. In great part, this is due to the constant fight over the top positions on Google Search results. Keyword research and monitoring are essential in guaranteeing you exist online. Customers usually look at the first few pages of results. If you're not there, that's site traffic and sales leads lost.
The big fish in your market are going to pop up on the first page for the most relevant keywords by which you can be discovered. Climbing up that ladder is a tall order to achieve, if you're only now bulking up your SEO efforts. Your ranking for relevant keywords and phrases shows you just where you stand in the hierarchy of things.
That's why it's important to not only monitor your current keywords, but actively research the new keywords and phrases that pop up. With advancements in semantic search, customers change how they research products and services.
Monitor your brand much easier
Perhaps the best use for keyword monitoring is to establish your brand's relationship to its direct customers as well as its standing in your niche. Brand monitoring is an essential process that even the smallest company should learn how to utilize, if it wants to grow and evolve. It all boils down to public opinion.
What are the reviews you're getting? What are customers saying about you either as reviews or as detailed opinions out on blogs and forums? Are there articles written about your services? What is the general mood? The answers reveal consumer good will and opportunities to shape reputation going forward. Brand monitoring is the early signaling system when something goes wrong, but also when you've done something right. Both scenarios create opportunities for maneuvering in your brand's favor.
---
Interesting related article: "What is Digital Marketing?"