London home prices will average at least £1 million by 2030, says forecasting body Oxford Economics, which also predicts that the capital's economic and employment growth will far outstrip that of other European rival cities, including Paris and Frankfurt.
If the property-price prediction comes true, it will mean homes will cost twice as much in fifteen years' time, compared to today. While this is great news for investors, for the average salaried Londoner, it may represent a serious problem.
The report – London 2030 – states that London's economy is expanding strongly, easily outpacing both the UK and its main European rival cities such as Frankfurt and Paris.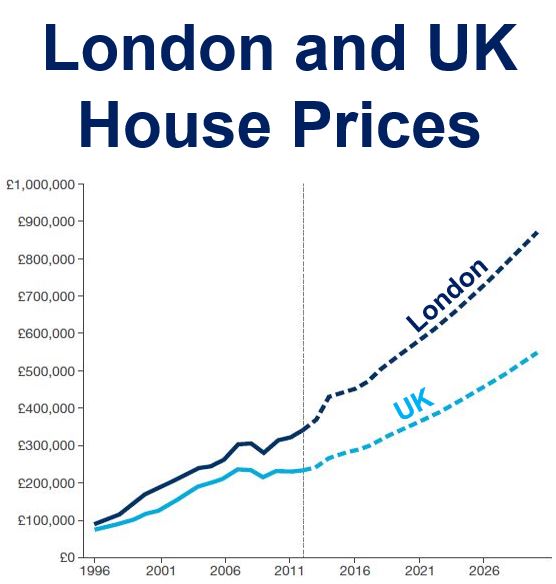 London's house prices will increase faster than in the rest of the UK. (Source: Oxford Economics)
Strong long-term growth in London predicted
Considerable investments in retailing, homes, office buildings and public infrastructure all point to widespread optimism that the current pace of growth is set to continue, not just for the next couple of years, but also over the long term, the authors wrote.
The report also mentions some hazards that could undermine growth, including travel congestion, housing supply, a decline in one of the capital's key sectors, and the impact of internet shopping on major retail centres.
London's job prospects
The report predicts that employment rate growth in the capital is set to slow down, averaging slightly less than 1% per year until 2030, compared to 1.5% from 1991 to 2015, and a 5% peak in 2014.
There is a chance artificial intelligence could impact on London's employment landscape. The authors believe technology could eliminate some jobs, and not just in low-skilled or unskilled positions. We refer to workers with no special training or skills as unskilled labor.
The report predicts employment will grow much faster in London than in other European rival cities. (Source: Oxford Economics)
The authors wrote:
"In high-end financial services we think the scope for this is particularly large, with obvious important implications for London. However, we do also see resultant and off-setting employment gains in other sectors and occupations."
London's population, which grows considerably faster than the rest of the country, should reach the 10 million mark by 2030.
The authors wrote:
"Even if earnings grow only slightly faster in London than nationally, and even if higher interest rates, tighter credit and more cautious borrowing behaviour all mean that London house prices keep pace with earnings rather than racing ahead, average house prices in London are likely to breach the £1 million barrier before 2030."
Oxford Economics predicts population growth in London of 2.4 million by 2036, which is much higher than the Mayor's forecast of a 1.4 million increase. "The London Plan relies on employment projections that take no account of the 625,000 increase in employment seen in London between 2012 and 2014. It shows employment growth in the period 2015-2036 which is 314,000 lower than we project," the authors stated.
The report forecasts consumer spending in London will grow by 2.8% annually until 2030 in real terms, which is significantly faster than the whole country's 2.3%.
Consumer expenditure in Inner London is expected to grow by 2.8%, compared to 2.9% in Outer London.
Video – London House Prices