Virgin Money London Marathon spaceman Tim Peake will compete in the big event on Sunday as he takes long-distance running literally out of this world – 248 miles (400 km) above Earth in the International Space Station (ISS).
On 24th April 2016, the British European Space Agency (ESA) astronaut will 'boldly go where no man has gone before' by running the 26.2 mile event at 10am (GMT) at the same time as 37,000 other competitors who will start off in Greenwich, to take on the world-famous London Marathon course.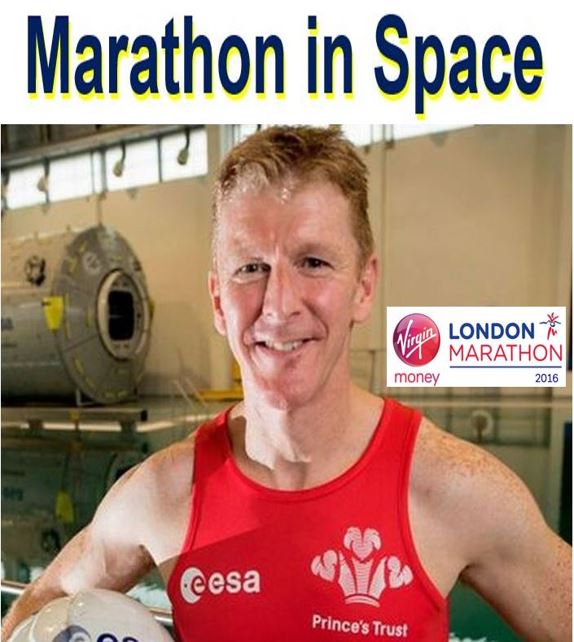 Major Tim Peake will compete in the London Marathon on Sunday, tethered to a treadmill onboard the International Space Station. (Image: virginmoneylondonmarathon.com)
Strapped to a treadmill
However, unlike his Earth-bound counterparts, Major Peake's shoes will not be pounding the streets of London. He will be tethered to a treadmill in space onboard the ISS. He has to be strapped down, otherwise he would float into the air in the weightless environment of space after his first step.
Major Peake – the first Briton to be selected for an ISS mission – will add another 'first' to his impressive list of achievements on Sunday.
---
---
Competing in the London Marathon while orbiting the Earth has been a challenge that Major Peake has been preparing for since 2009, when he was one of six candidates who were accepted into the ESA astronaut training programme – out of 8,413 applicants.
Regarding his dream to compete in the long run while in space, Major Peake said:
"As soon as I got assigned to my mission to the ISS, I thought, 'Wouldn't it be great to run the Digital Virgin Money London Marathon from onboard the ISS?'. The London Marathon is a worldwide event. Let's take it out of this world."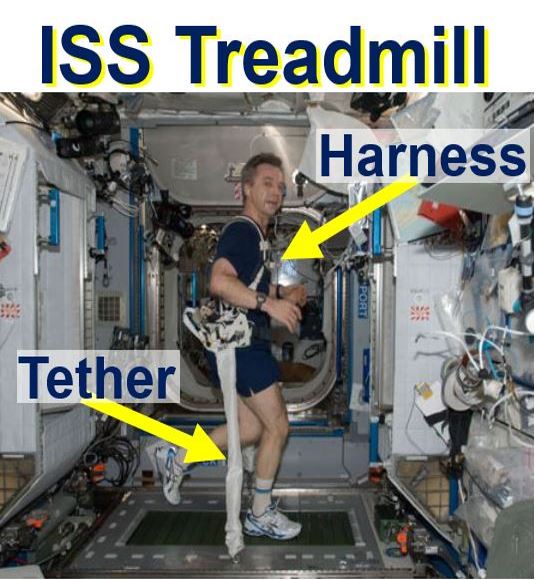 Robert Thirsk, a Canadian astronaut, exercising on the COLBERT/T2 Treadmill. NASA, ESA and Roscosmos carry out several trials to determine the best way to tether astronaut runners to the space treadmill. (Image: NASA)
"I ran the London Marathon in 1999 and loved every minute of it. I was blown away by the energy and the enthusiasm of everyone involved, so when I heard that I'd be going to the ISS in December 2015 I asked the medical team if I could run the 2016 London Marathon in space on the same day that everyone will run it on Earth. I was thrilled when they said yes; I'm sure it will be one of the highlights of my mission."
---
---
The ISS' treadmill
The treadmill in the ISS looks much the same as those down on Earth. Things float around in the space station because there is no gravity, so Major Peake has to wear a harness that tethers him the treadmill's conveyor belt as he runs.
While running he watches an HD video of the iconic London Marathon course on a screen in front of him.
As Major Peake explains, he will not be running alone:
"The thing I'm most looking forward to is that I can still interact with everybody down on Earth. I'll be running it with the iPad and watching myself running through the streets of London whilst orbiting the Earth at 400km above the surface and going 27,000km per hour."
He explains that the treadmill he uses in space is not as nice the ones people are used to using in gyms or at home. The ISS one is in the corridor next to the loo. When astronauts run on it they usually stare at a blank wall.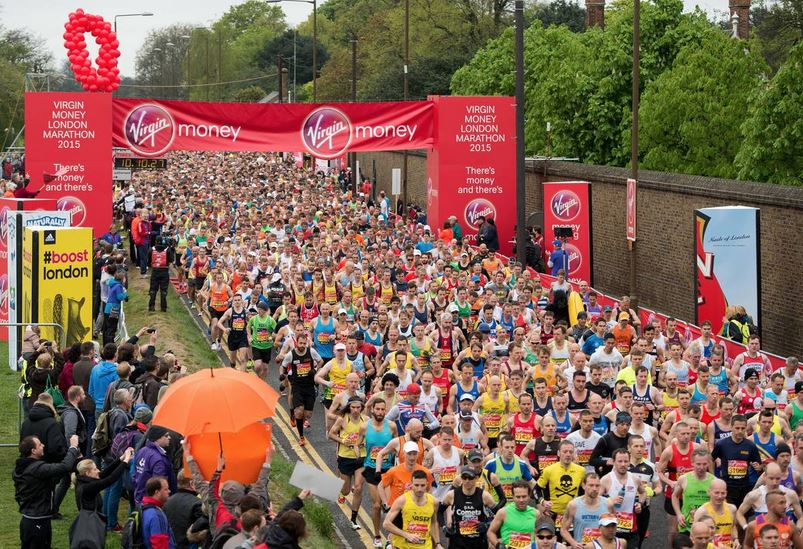 The London Marathon, known as the Virgin London Marathon since 2010, is a long-distance running event held in the UK's capital every year. The first official London Marathon was held on 29th March, 1981. (Image: virginmoneylondonmarathon.com)
The harness
Regarding the harness he has to wear, Major Peake explains:
"One of the biggest challenges I'll face is the harness system. In microgravity I would float if I didn't strap myself down to the treadmill so I have to wear a harness system that's similar to a rucksack."
"It has a waist belt and shoulder straps, which have to provide quite a bit of downforce to get my body onto the treadmill, so after about 40 minutes that gets very uncomfortable."
Sports scientist, Dr. Jonathan Scott, Medical Projects and Technology Team lead for ESA's Space Medicine Office, along with members of his team – who will wear a replica space suit for the London Marathon challenge – will determine how much harness force Major Peake will use during the event.
If they opted for minimal force – just enough to stop him from floating off the treadmill – he would probably run the 26.2 mile event in record time. It would be like running on Earth with his current muscle mass and level of fitness, but only having to carry less than one tenth of his body weight.
Major Peake is determined to make sure he has no equivalent weight advantage compared to his competitors down on the ground. "I don't think I'll be setting any personal bests. I've set myself a goal of anywhere between 3:30 to 4 hours," he added.
Libby Jackson (left), the Astronaut Flight Education Programme Manager for the UK Space Agency, and Jonathan Scott (right) will attempt to break the male and female Guinness World Records for completing the marathon race in space suits. (Image: virginmoneylondonmarathon.com)
The Prince's Trust
Like several thousand goal-setting marathon runners in London, Major Peake will run the distance for charity. The former Army Air Corps test pilot will raise awareness for The Prince's Trust, which will have a team running on Sunday on Earth – Team Astronaut – while he's competing in space.
In 2015, Major Peake became an ambassador for The Prince's trust and pledged to support the charity. In December 2015, just before blasting off into space, he said:
"As a young child, I dreamed of becoming an astronaut. Since then, with fantastic support from others, the right opportunities, and a lot of hard work, I now find myself on the brink of achieving my early dreams."
"But I know I am one of the lucky ones. Thousands of disadvantaged young people in the UK need even more support from us to get the chance to follow their dreams and fulfil their potential."
"It's an amazing organisation that helps young people succeed in life no matter what their background. The young people helped by The Trust face innumerable challenges and difficulties in their daily lives, and so it's all the more important that they get the opportunity and support to develop their abilities and realise their talents."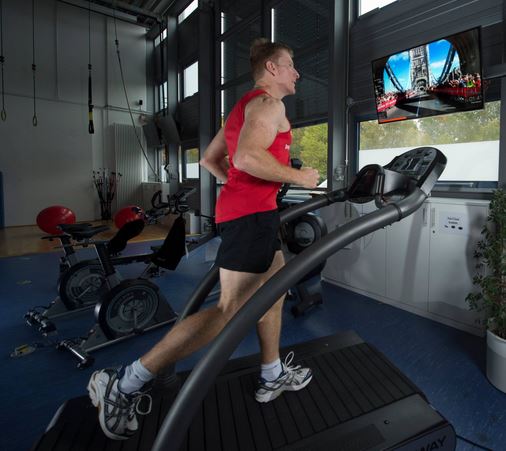 Major Peake using a treadmill on Earth before venturing into space. He has been an avid long-distance runner ever since he was a schoolboy. (Image: virginmoneylondonmarathon.com)
He said he hopes his performance during the event will not only promote The Prince's Trust work but will also inspire the next generation of runners and scientists.
He made the following comment about the London Marathon:
"The London Marathon is a fantastic event. It brings people together not just from all around the UK but from all around the world. It's also a lot of fun and the atmosphere is just outstanding. I can't wait to feel part of the 2016 race. Good luck to everybody!"
We're chatting to @astro_timpeake later today. Tweet your question ideas & we'll ask the best one! #LondonMarathon pic.twitter.com/G9cntwKyig

— LondonMarathon (@LondonMarathon) April 20, 2016
A passionate runner
Major Peake discovered running after joining the cadet force as a schoolboy – ever since he has been passionate about the sport.
He said:
"I got into running as a teenager after joining my school's Army Cadet Force. I loved all the outward-bound activities, but especially cross country running around the South Downs where I grew up. I've enjoyed trail running ever since."
"Staying fit was part of the job when I was an Army Air Corps test pilot, so I would run outdoors three or four times a week. In my career as an astronaut I have to spend a lot of time on the treadmill, but if I was given the choice I'd always choose to run outdoors cross country."
In a press conference before blast-off last year, he said:
"I think that at times when I'm running in space I will struggle to capture the joy of running outside. Having to exercise for two hours every day on a treadmill, while looking at a panel on the wall might become a bit tedious but I have some things that I'm going to take with me that will hopefully help me to beat the boredom."
"I'll listen to music and use the RunSocial app on my iPad to keep things interesting. As I run, the iPad displays a virtual landscape that moves by at my running pace. RunSocial has filmed my favourite running route near the village of Comrie in Scotland so I can go for a 10km run up Glen Artney whenever I feel like it. It will be great to feel a connection to planet Earth and to see the beautiful Scottish scenery whenever I do the route."
"My fitness regime is designed to make sure I'm in good shape when I arrive back on Earth so I hope to be back on the trails soon after I return in May. I'd love to run the 2017 London Marathon – it will give me a great incentive to go through the rehabilitation and get myself fit again."
Video – Team Astronaut open London Marathon Expo
Libby Jackson and Dr. Jonathan Scott, who will be running the Virgin London Marathon in replica space suits, opened the 2016 Expo on Wednesday, 20th April.