London smashed its annual pollution limit for 2016 in just eight days, making it the most polluted city in the UK and one of the world's worst major cities among the developed nations for people with breathing difficulties, small children and elderly individuals.
London Air says the UK capital has been exceeding European Union air quality rules since 2010.
If the level of atmospheric pollution seen during the first eight days of 2016 continues for the rest of this year, by 31st December London's pollution levels will have exceed the EU limit by a factor of 45.
There are various kinds of pollution. Chemicals, particulates sewage, noise, household waste, construction debris, and artificial light, for example, are possible pollutants.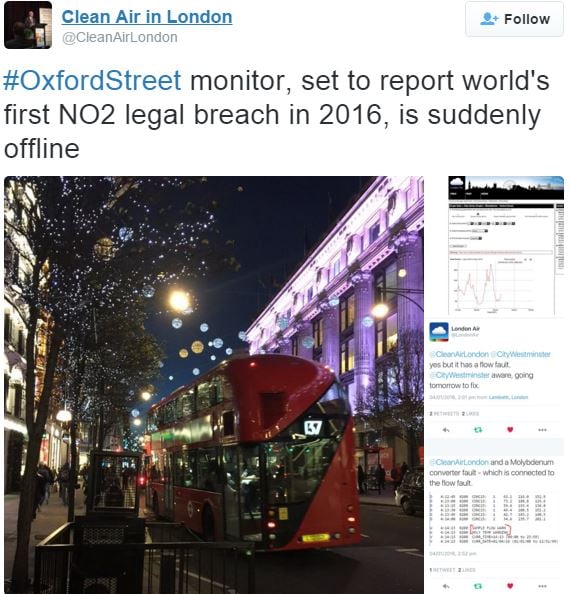 Putney High Street
According to London Air, part of King's College London's Environmental Research Group, Putney High Street, a busy thoroughfare in Wandsworth, inner London, was the first place in the city to exceed the nitrogen dioxide (NO2) limit this year.
In fact, Putney High Street exceeded the limit a total of 19 times from January 1st to 8th this year – the last one occurring during the rush hour on Friday morning.
EU limit is 19 hours' worth of breaches annually
European Union (EU) regulations stipulate that NO2 atmospheric concentrations must not exceed the limit by more than nineteen hours per year. The UK Government signed up to this target.
One of the devices, placed in Oxford Street, which analyzes air quality, took just two days last year to register pollution breaches for NO2 for the whole year, says London Air.
The Oxford Street monitoring equipment developed a fault at the beginning of this year (3rd January). Westminster Council says the company contracted to repair it is working to fix it as fast as possible.
London Air points out that while much of the media attention focuses on Oxford Street and other famous London landmarks, most of the city's main roads frequently breach NO2 levels.
Five roads last year exceeded the annual limit in the first month.
Since 2005 pollution rose and then fell
Nitrogen dioxide levels in London's atmosphere gradually worsened between 2005 and 2010, but have improved since 2010.
The British Government claims that NO2 emissions in the UK fell by 38% from 2005 to 2013. Levels of particulate matter declined by more than 16% during the same period.
London Air says Britain's capital will not be able to meet the EU limits until 2025, if current plans are not changed.
The Department of Environment Food & Rural Affairs published a document – 'Improving air quality in the UK' – which aims to get the country within the EU limits by the end of this decade. In the document, the government department wrote:
"Under this Plan, by 2020 the most polluting diesel vehicles – old polluting buses, coaches, taxis and lorries – will be discouraged from entering the centres of Birmingham, Leeds, Southampton, Nottingham and Derby. Newer vehicles that meet the latest emission standards, and private cars, will be unaffected."
Boris Johnson, the Mayor of London, does not appear to believe the city will meet EU limits by 2020. The Mayor of London's Strategy quotes 2025 as its target date. Mr. Johnson plans to introduce a super-low emission zone by 2020. He added that taxis will be licensed to be zero-emission capable from 2018, and buses will be retro-fitted so they are almost pollution free.
What are the causes of air pollution
Humans cause air pollution directly and indirectly – directly through our use of vehicles for transport, fuels and electricity.
We also cause air pollution indirectly when we purchase goods and services that consume energy when they are produced and delivered.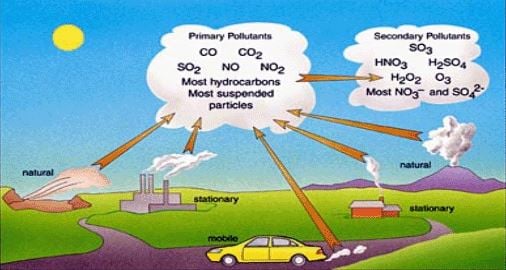 Most of this atmospheric pollution we cause results from burning fossil fuels, such as gas, petrol, oil and coal to produce electricity and power our vehicles.
The main pollutants people are concerned about in cities are nitrogen oxides (NOx)2, sulphur dioxide (SO2), and particulate matter (PM).
Pollutants can also be the result of chemical reactions that occur in the atmosphere. For example, ozone is produced when nitrogen oxides and other volatile compounds are exposed to sunlight.
Industry is also a major contributor to air pollution in large cities.
The Government says that about 80% of London's air pollution comes from vehicles (cars, buses and trucks).
Can I exercise in London's streets?
Many Londoners, especially physically active individuals, wonder whether exercising out in the streets is bad for health. According to London Air, the health benefits we get from exercise far outweigh the possible harms from pollution.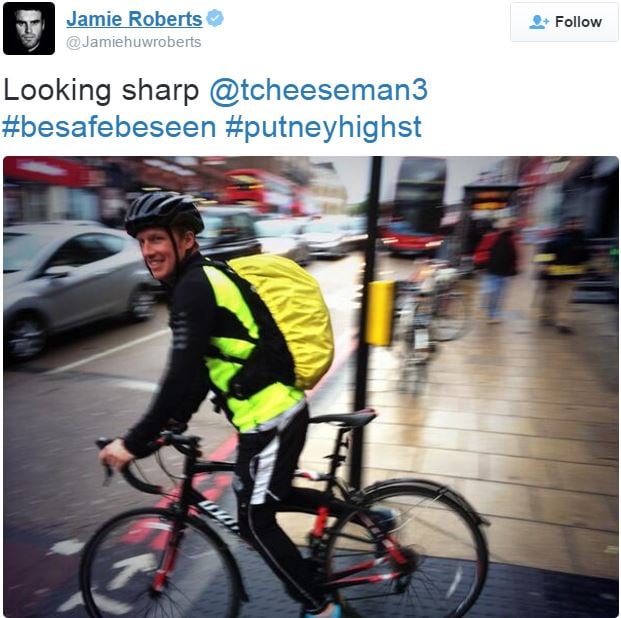 However, Britain's capital has some very high pollutant concentrations. Children are more susceptible to air pollution because their breathing rates and metabolism are faster than that of adults. Children's lungs and immune systems are not yet completely developed.
Young children play very close to the ground (crawling and rolling), where they are more likely to be exposed to pollutants, which are generally heavier than air, i.e. nearer the ground concentrations are higher.
Londoners who exercise outdoors can reduce their exposure if they select certain routes and do their workouts when pollution levels are lower – concentrations of pollutants and particulate matter vary considerably during the day.
Whether cyclists should wear a mask is still a subject of debate. According to studies, the benefits (or lack of) from wearing a mask when cycling have not been conclusively demonstrated.
Before going out on your run, have a look at the London Air website (Nowcast) and choose routes where pollution levels are lower.
Regarding pollution and cardiovascular health, the British Heart Foundation warns:
"Evidence shows that air pollution can make existing heart conditions worse and can cause heart attacks and strokes amongst vulnerable people."
There is also a pollution-alerting service using airText that Londoners can sign up to.
Video – Sadiq Khan at Putney High Street
Sadiq Aman Khan, Member of Parliament (MP) for Tooting since 2005, who is standing as the Labour Party's candidate to be Mayor of London in the 2016 mayoral election, went to Putney High Street to check pollution levels.
I've been on Putney High Street with an air pollution monitor. We must clean up London's filthy and dangerous air. https://t.co/KuQ2rpPkPS

— Sadiq Khan MP (@SadiqKhan) January 9, 2016