ASDA says it is to spend 500 million pounds to win back customers, thus launching 2016's first salvo of price cuts in a bitter retail war that has intensified over the past two years. The money will go towards slashing prices – on top of its previously-announced price cuts.
The UK's big four supermarket chains – Tesco, Sainsbury's, Asda and Morrisons – have been aggressively reducing prices in a war they appear to be slowly losing to German discounters Lidl and Aldi. Aldi and Lidl reached a combined 10% market share in 2015.
Regarding Aldi and Lid, Fraser McKevitt, head of retail and consumer insight at Kantar Worldpanel, said on 17th November, 2015:
"If you look back as recently as 2012 Aldi and Lidl only held a 5% share of the market, and it had previously taken them nine years to double their combined share from 2.5%."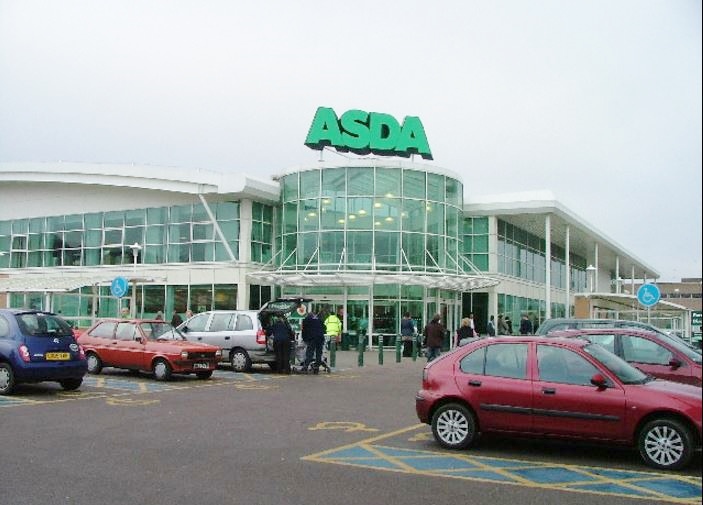 Asda superstore in Hatfield, Hertfordshire. Asda became a subsidiary of US giant Walmart after a £6.7 billion takeover in July 1999. It is today the second largest supermarket chain in Britain, by market share. (Image: Wikipedia)
"In the last 12 weeks the two retailers have attracted another additional million shoppers compared with last year while average spend per trip has increased by 4% to £18.85, which is 78p ahead of the total retailer average. The discounters show no sign of stopping and with plans to open hundreds of stores between them, they'll noticeably widen their reach to the British population."
In 2013, Asda had announced that it would spend ₤1 billion slashing prices over the next five years.
---
---
Radical action to regain lost customers
The Chief Executive of Asda, Andy Clarke, said:
"We must take radical action to win back our customers. We expect that 2016 will be another year of intense pressure at a macroeconomic level in addition to sales remaining under strain from price deflation, a continued competitive background throughout the sector and radically changing customer shopping habits."
"The structure of UK grocery retailing has permanently changed to reflect the way that customers shop today. We saw the change coming and responded in 2013, but we didn't move fast enough."
In 2015, Asda was the worst performer among the UK's top supermarkets. The company had focused on maintaining profit margins rather that preserving market share.
Like-for-like sales declined by 4.5% in its third quarter, following a record 4.7% fall in the second quarter. On 18th February, the company will announce an update on its fourth-quarter trading. The other big three are about to publish their Christmas trading figures.
Asda's CEO, Andy Clarke, who joined the company in 1992, says his supermarket chain did not respond rapidly enough two years ago.
All British supermarkets suffering
Morrisons, which is expected to report its Christmas trading figures on 12th January, experienced a 2.6% decline in like-for-like sales in Q3. In December, the Bradford-based retailer was dropped from the FTSE 100 list of Britain's most valuable companies.
Sainsbury's will publish its Q3 and Christmas figures on 13th January. The retailer, which was founded in 1869 by John James Sainsbury, reported a 1.6% decline in like-for-like first half sales.
Tesco will publish its Christmas and Q3 results on 14th January. Its like-for-like UK sales were 1.1% down in the first half of its financial year.
Waitrose, which is part of the John Lewis Partnership, reported a 1.4% decline in sales over the Christmas period. John Lewis, however, posted an overall increase of 5.1%.
The two Germany-based discounters – Aldi and Lidl – are grabbing an increasingly greater share of the UK grocery market, at the expense of the big four.
Marks & Spencer (M&S), which has already released its Christmas trading figures, saw general merchandise sales drop by 5.8% for the 13-week period ending on 26th December. However, food sales were 0.4% up.
M&S said its CEO, Marc Bolland, would step down in April – he will be succeeded by Steve Rowe.
Cheap diesel and petrol
Earlier this month, Asda announced that effective from 4th January, it was cutting the price of diesel to below £1 per litre.
"Asda's national price cap will see diesel and unleaded available at the same price of 99.7ppl for the first time in over 6 years, across every single one of its filling stations."
"Asda is the only retailer that has a national price cap on fuel at all 279 filling stations, ensuring every single customer knows the maximum price they will pay at the pump regardless of where they live."
Asda's Senior Petrol Director, Andy Peake, said:
"We're glad to be leading the way and investing in some New Year cheer for customers by bringing the cost of diesel to below £1 for the first time in over six years. This latest announcement shows that we're committed to being the driving force behind lowering fuel prices."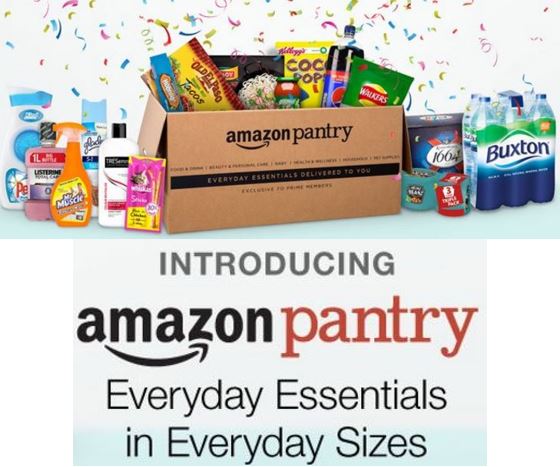 How will the big four fare against Amazon Pantry when it expands its product range in the UK? (Image: amazon.com)
Amazon to enter UK supermarket price war
At the end of December, when British grocery retailers thought things could not get much worse, online retail giant Amazon.co.uk said it would widen its grocery service – Amazon Pantry – in a big way in 2016.
Amazon Pantry was introduced to Prime members in November 2015. The service began nationwide, offering more than 4,000 low-priced household essentials, including baby & childcare products, health & beauty, household supplies, and food & drink.
Amazon said it planned to add several thousand more products to its Pantry list, which customers can have delivered to their door for £2.99 for each large Pantry Box.
Christopher North, CEO of Amazon UK, said regarding Amazon Pantry:
"We are really happy with the early numbers. In the new year we are going to be adding a lot more products."
Britain has the world's highest percentage of customers who do their shopping online.
UK retailers' grocery market share
Kantar Worldpanel launched a new data visualisation tool that allows you to view and analyse Grocery Market Share data online.