Germany's flag carrier Deutsche Lufthansa AG issued a lower-than-expected profit guidance for 2015 on Friday. The airline cited weak growth in the world economy, declining passenger yields and increasing competition.
The company originally had an operating profit target of approximately €2 billion for 2015. It refused to provide an exact figure on Thursday.
In contrast, IAG SA, which owns British Airways and Iberia, raised its profit forecast for 2014 after posting a 30% rise in third quarter profit.
Chief Officer Finance & Aviation Services, Simone Menne, said:
"When we look ahead, though, we can see that the economic slowdown and the continuing declines in our passenger yields in the face of such fierce competition will affect our operating scope in the year ahead. This is why we need to modify our projections for 2015, even though we expect it to produce an operating result that is significantly above this year's."
"And in the medium term, given the high investments awaiting us, we must further improve our operating result. The need to do so, and our rising indebtedness, are clear signs to us that we must take appropriate corrective action here in the form of the structural transformations that we are currently embarking on."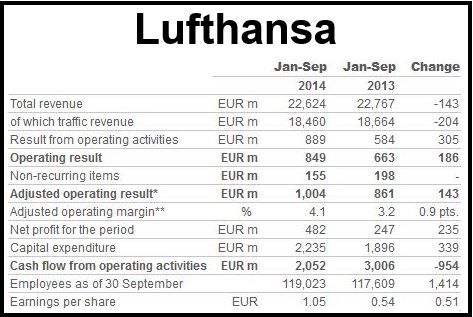 (Data Source: Media Relations, Lufthansa Group)
All Lufthansa Group's airlines are responding to pressure on their yields by cutting their planned capacity growth from their original 5% to about 3% for 2015 in available-seat-kilometer terms.
Europe's largest airline says it is sure it can reach its profit target of €1 billion for 2014, despite a string of devastating pilot strikes. It added, however, the following phrase when confirming its 2014 expected profit: "excluding the impact of any further strike action between now and year-end."
Vereinigung Cockpit, the pilots' union, has held a total of eight walkout in 2014 so far. The pilots have been striking over retirement benefits. The union has not ruled out further walkouts.
The operating total outlook for full year 2014 was strengthened by favorable results for the first three quarters – in the first nine months of the year the company posted an operating profit of c.€735 million, compared to €145 million for the same period last year.
Chairman of the Executive Board & CEO, Carsten Spohr, said:
"We are currently working flat out to implement our work program with its seven strategic action areas, to ensure that we remain competitive in the longer term. Quality, efficiency and innovation are our prime focuses here. We're making huge investments in quality and service for our customers; and we're adopting new structures and innovative business models to tap into new growth opportunities and new customer groups."
"We're also working further on our existing business areas, continually raising their efficiency. Lufthansa has shown time and again in the past that it can respond flexibly to the markets and their dynamic evolution and emerge all the stronger from the challenges of doing so; and I'm convinced that we'll bring this strategy, too, to a successful conclusion."