After talks on an early retirement scheme broke down, Lufthansa pilots say they will go on strike on Tuesday. All long-haul flights departing from Frankfurt between 6am and 9pm GMT will be grounded.
This is the fifth time so far this year that Lufthansa's 5,400 pilots walk out or stage some kind of protest that disrupts flights. As a result of their actions, 4,300 flights have been cancelled in 2014, leaving 480,000 passengers stranded.
Germany's pilots' union Vereinigung Cockpit said on Monday that Boeing B747 and Airbus A340, A330 and A380 aircraft will not take off from Frankfurt, the airline's main hub. Between seventy and eighty scheduled flights will be cancelled, a union spokesman estimated.
Vereinigung Cockpit said in a statement:
"Since management is still failing to come up with an offer for a compromise we see ourselves forced to resort to this measure."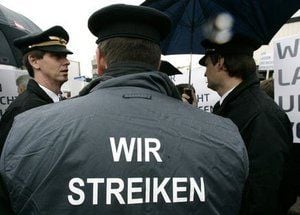 Talks between the Vereinigung Cockpit and Lufthansa management broke down.
Impasse on a retirement scheme
Vereinigung Cockpit wants the German flagship carrier to maintain a scheme that grants early retirement at the age of 55 for pilots. In the scheme, pilots receive up to 60% of their salaries until regular pension payments commence.
According to Lufthansa, the scheme is not relevant any more, because a recent court ruling means that pilots today can work up to the age of 65.
A Lufthansa spokesman told AFP:
"We can't say at this point exactly how many (flights) will actually be cancelled. We also have long-haul flights leaving from Düsseldorf and Munich and these won't be affected. We're doing all we can to ensure as many flights as possible can actually take off. We're currently working on a contingency timetable, which we plan to publish in the next couple of hours."
Lufthansa's pilot strike appears just as Air France's pilots called off their stoppage, which cost the French flagship carried more than €280 million ($355 million). The French pilots are against Air France's plan to expand its budget airlines.
Like its European rivals, Lufthansa is struggling against fierce competition from EasyJet, Ryanair and other budget airlines. Since the global crisis, cheap flights have become a top priority for consumers.
According to Lufthansa, pilot strikes have reduced profits so far this year by €100 million ($127 million).