The vast majority of British manufacturers would vote to remain in the European Union, a new survey found. UK manufacturers' association EEF reported that 85% of manufacturers are pro-EU compared to 8% who "don't know". Only 7% of respondents believe the country would be better off leaving.
Strong EU support is evident across companies of all sizes, the poll found. Support is even stronger among businesses employing more than 250 workers, where at least 90% favor staying in, while not one single large company would vote to pull out.
These figures are similar to the results of EEF's previous poll conducted in September last year. They show that despite the European Union's recent economic problems, support among manufacturers across the country to stay in has not wavered.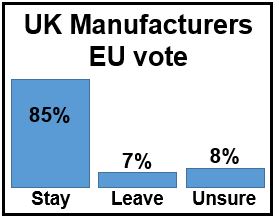 (Data source: EEF)
Terry Scuoler, Chief Executive of EEF, said:
"Despite the continued challenges faced by the Eurozone, manufacturers remain overwhelmingly of the view that our economic wellbeing is inextricably linked to the EU and, we must stay in membership."
"It makes no sense to disengage from our major market. We can achieve reform by being an active member. It remains fanciful to think we can just pull up the drawbridge and walk away with no consequences."
Manufacturing across the EU, including the UK, has been suffering recently. According to two surveys conducted in August, UK manufacturing has slowed, with new orders and output growth decreasing significantly.
In September, manufacturing in the Eurozone declined to a PMI reading of 50.5, the lowest gauge since July 2013.
Stay in and push for reform
The Confederation of British Industry (CBI) said in November that the UK should remain in the EU and push for reform. It stressed that the country is much better off inside than looking on powerless from the outside.
CBI chief John Cridland said:
"We can't end up on the fringes of the world's largest trading bloc, following and paying for all the rules, but setting none. The UK must stay in to reform the EU – it is in the UK's national interest and will create jobs and opportunities at home and in Europe."
"Each year, membership is worth £3,000 to every household in this country."