Imagine digging up your garden to lay electric cables and unearthing a magnificent Roman villa that used to belong to a wealthy family. That is exactly what happened to rug designer Luke Irwin at his farmhouse in Brixton Deverill, about 4 miles south of Warminster in Wiltshire, England.
Mr. Irwin, who wanted to lay down electric cables so that his kids could play table tennis in an old barn in the property he and his  wife had recently purchased, had no idea that the straightforward conversion could lead to such an extraordinary find.
Initially, the electricians had suggested stringing up an overhead cable from the farmhouse to the barn, but he insisted that the cable had to go under the ground. That decision turned out to be a fateful one. What he uncovered was an 'extraordinarily well-preserved' villa, as well as an untouched mosaic.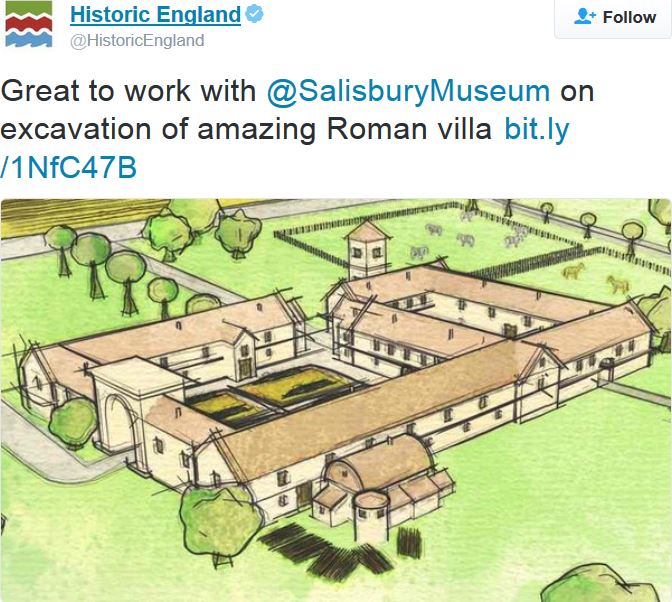 An artist's sketch of the palatial Roman villa, which likely belonged to a family of extraordinary importance. Historic England said: "It is not just the size of the building – which is vast – but the other discoveries that we have made that reveal what a special place this must have been." (Image: twitter.com/HistoricEngland)
While drilling, the electricians hit a hard layer about eighteen inches below the garden's surface. When they saw pieces of mosaic everybody knew about the significance of that immediately, Mr. Irwin said.
"No one since the Romans has laid mosaics as house floors in Britain. Fortunately we were able to stop the workmen just before they began to wield pickaxes to break up the mosaic layer," said Mr. Irwin.
---
---
A major find for Britain
The find, according to Historic England (formerly English Heritage), an executive non-departmental public body of the British Government, tasked with protecting the historical environment of England by preserving and listing historic buildings and ancient monuments, was 'unparalleled in recent years'.
The palatial Roman villa was discovered during an 8-day dig. Archaeologists in charge of the excavation site are comparing it in terms of its owner's wealth and the size of the three-storey structure to a similar house at Chedworth in Gloucesteshire – one of the largest Roman villas in Britain.
When the electricians had dug 18 inches into the ground they felt something hard. After carefully clearing the earth they saw it was an ancient mosaic floor surface. Mr. Irwin immediately realised they had discovered something extraordinary. (Image: twitter.com/lukeirwinrugs)
At the new Brixton Deverill excavation site, hundreds of oysters have been unearthed. They had been artificially cultivated and transported live from the coast in barrels of seawater. Archaeologists said only very wealthy families had the resources to carry so many live oysters from the coast.
The dig also unearthed several coins, the bones of animals including a suckling pig, hunted wild animals, brooches, and 'extremely high status pottery'.
---
---
BBC News quoted Dr. David Roberts, who works at Historic England, as saying:
"We've found a whole range of artefacts demonstrating just how luxurious a life that was led by the elite family that would have lived at the villa. It's clearly not your run-of-the-mill domestic settlement."
Untouched for 14,000 years
The villa is believed to have been built between 175 and 220 AD. The fact that it had been untouched for 1,400 years makes it of 'enormous importance', says Historic England.
Historic England says the mosaic had formed part of the floor of the palatial villa, which had been remodeled several times before the fifth century – and then remained untouched.
Mr. and Mrs. Irwin's recently-purchased house was created out of two farm labourers' cottages. It had been built in the centre of the old villa and rests on a huge slab of Purbeck marble, which experts believe is probably of Roman origin.
Luke Irwin in his Wiltshire garden. (Image: lukeirwin.com)
Post Roman Britain
Dr. Roberts added:
"Without question, this is a hugely valuable site in terms of research, with incredible potential. It's one of the best sites I have ever had the chance to work on."
"The discovery of such an elaborate and extraordinarily well-preserved villa, undamaged by agriculture for over 1,500 years, is unparalleled in recent years and it gives us a perfect opportunity to understand Roman and post-Roman Britain."
Fortunately, the villa was not destroyed after the collapse of the Roman Empire. Timber structures erected in the fifth century have been discovered by archeologists working on the excavation site.
The remains from this period – between the end of the Roman occupation and the Saxon domination of England – could provide useful insight into one of the least understood periods in English history.
We know very little about how the local people at the time responded to the collapse of the Roman Empire. This find may help answer many questions, says Dr. Roberts.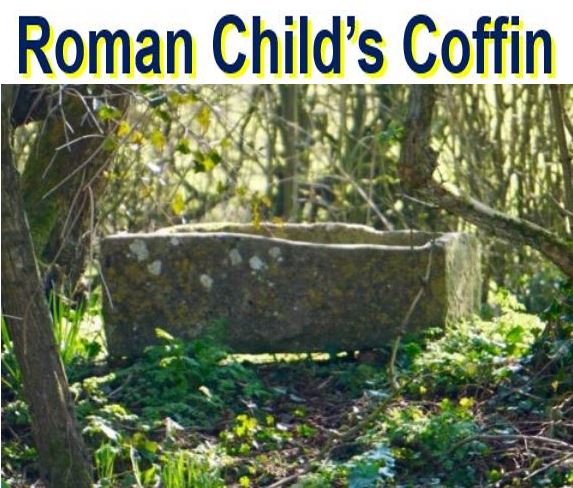 This Roman child's coffin has been lying, undisturbed in the Irwin's garden, for more than one thousand years. (Image: lukeirwin.com)
Roman child's coffin
In front of the Irwin's kitchen window in the garden, there was a pot of very tired Geraniums. Dr. Roberts kept asking Mr. Irwin about the long, rectangular pot, which had been there before the Irwins bought the house.
The previous owner of the property was contacted and said she had left the container there on purpose and that it had been there when she bought the house in the 1980s.
When Mr. Irwin asked Dr. Roberts, an archaeologist, why he was so interested in an old pot that looked more like a cattle trough, he said he thought it might be a Roman child's coffin.
Mr. Irwin said, regarding the coffin that had been literally hiding in plain sight for so many centuries:
"This is about eyes being open and accumulation of knowledge. It is seeing things in a different way – taking a knowledge you have for topography, seeing undulations in a field and being able to build a story of what is going on there."
"To me it is quite staggering that what is effectively a palace that can lie unknown and undetected for over a thousand years. It is quite extraordinary."
Video – Roman villa discovery in Wiltshire garden
In this video, Luke Irwin talks about how his wife fell in love with the property when they first viewed it. Their plan to convert the barn so that the kids could play ping-pong in it … and then the amazing discovery while electricians were digging up the garden to lay a cable.