A man armed with a two-foot long machete attacked and injured a woman at a the Intu shopping centre in Bromley, Kent during the busy Boxing Day sales, triggering panic and chaos as terrified shoppers tried to flee. Armed police, who had been called in, arrested the man (in his 20s) and searched another man they believed was also armed with a weapon.
A Scotland Yard spokeswoman said:
"We were called at 3.45pm to reports of an injured man at the Glades shopping centre. Officers arrived at the scene and found a man believed to be in his 20s with a minor head injury. At this stage officers believe he sustained the injury as a result of an altercation. The injured man has been arrested for affray and possession of an offensive weapon."
"He currently remains in custody at a south London police station. Officers have recovered two knives and are seeking to trace a man who was seen running off, possibly discarding a weapon. Enquiries continue."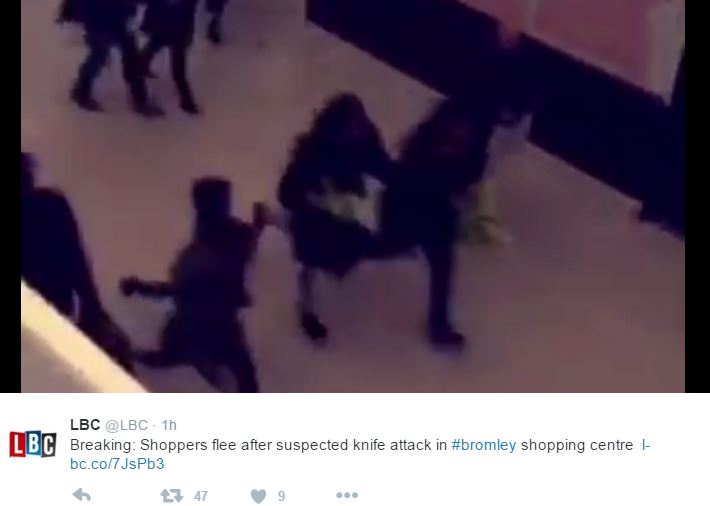 Terrified shoppers, believing a terrorist attack was underway, sprinted to the exits. (Image: twitter.com/hashtag/Bromley)
According to the London ambulance service, one woman was injured in the attack. Fortunately, she was not taken to hospital and was just treated at the scene.
A witness said two men were arguing about a pair of discounted trainers when one of them pulled out the weapon.
Social media sites soon filled with video footage and images of panicked shoppers running for the exits – many fearing a terrorist attack. According to one witness, the man was wielding a massive knife.
---
---
Staff 'freaked out'
Ryan Louder, who was at the Intu shopping centre, formerly known as The Glades, wrote in Facebook that he saw hundreds of panicked shoppers running out of the mall. He described Apple Store staff 'freaking out' and telling him and others to get into the back of the store, where apparently there was no exit.
Ryan Louder wrote:
"We were essentially sitting ducks to what we all thought was a terrorist attack. Luckily left that and went out fire exit. Horrible, seems to be more a man walked into Footlocker with a machete."
In an interview with the Evening Standard, witness Ceri Harlin, 18, a student, said:
"A police van pulled up and [officers] went running inside. Security and three or four police officers have handcuffed a man and the police officer is carrying the huge knife. No-one got injured as far as I know."
Bromley Police tweeted for anyone who witnessed the incident today or has video/photo footage to contact 101. It also reminded people to call 999 if anybody sees a crime in progress or risk to life, and call 101 for anything else – "Please don't report via Twitter," it added.
PC Mark McKay tweeted "Well done to the swift and professional response by officers at Bromley." (Image: twitter.com)
The police say the incident is not terrorism related.
A woman identifying herself as Marina called LBC and said people were trampling over children to get away from what they thought was an ISIS-style terrorist attack.
Marina said:
"We were in the Disney store. He heard the people screaming, running and shouting. We got trampled on, my children got trampled on."
"We were just really scared, we were running for our lives. We had to go out of the back of the stock room in the Disney store, and then we came to a dead end and there was no way out."
What to do if there's a terrorist attack?
Following the terrorist attacks on November 15th in Paris which killed 130 people, the French Government has published advice to its citizens on what to do during an attack. Its web page is full of tips, which are in French. However, it is full of intuitive pictures that are easy to understand.
There are three principal courses of action in the event of a terror attack:
– Flee
– Hide
– Raise the alarm
Try to flee, if you can't, look for a room and lock it or barricade the door. (Image: www.gouvernement.fr)
Your first course of action is to get away from the danger zone as fast as you can. Help others if you can, but avoid exposing yourself to danger.
As soon as you are outside the danger zone, you should alert others and tell them to stay well away from the vicinity.
If you cannot escape, find somewhere to hide, such as a room you can lock or barricade yourself in. Turn off all the lights and electronic equipment or anything that might attract attention, and lie down on the ground away from the windows.
If there is no room or a closed space where you can hide, find a hiding place behind a solid barrier such as a pillar or a wall. Turn off the vibrator and ringtone on your mobile phone.

The French Government says we should all know what to do in the event of a terrorist attack. (Image: www.gouvernement.fr)
Once members of the public have reached safety, alert the authorities by calling 999 in the UK/Ireland, or 911 in the United States. Throughout the European Union, dialing 112 will get you through to the emergency services.
When emergency services arrive, do not run towards them or make sudden movements. Raise your hands above your head, with your palms visible, and do what they tell you. The police (or army) have just arrived at the scene and cannot be sure who the innocent bystanders or terrorists are.
Video – Panicked shoppers run to exits
As soon as people heard there was a machette-wielding man attacking people, there was chaos as shoppers tried to flee the shopping centre in Bromley.