Why was Manchester United profit sharply down while its revenue increased significantly? For the year to June 30, 2014, profit plunged 84% to ₤23.8 million from ₤146 million in 2013, while revenue was 19% up to ₤433.2 million, due to better TV and sponsorship deals.
Part of the reason for the dramatic fall in profits was that last year it received a one-off tax credit, without which it would have posted a loss.
The United Kingdom's most famous football (soccer) club will have a financially challenging year as a result of poor performance on the field last year.
Lower guidance for 2015
The club failed to qualify for the UEFA Champions League for the first time since 1994. The Champions League is one of the most famous sports tournaments in the world, and definitely the most prestigious competition for European football clubs. Clubs earn a lot of money playing in the tournament.
Consequently, Manchester United forecasts lower profit and revenue. For 2015, the club predicts revenue between £385 million and £395 million.
David Moyes, the Manager who was fired in April, 2014, less than ten months after taking over from Sir Alex Fergusson, received a total of £5.2 million in compensation (along with his backroom staff).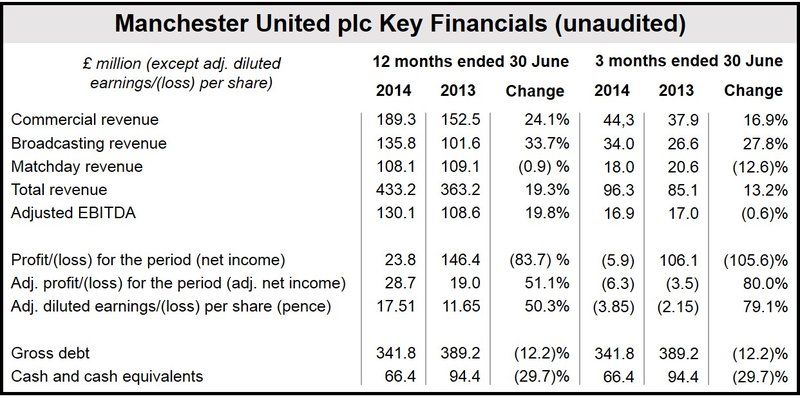 (Data source: Manchester United plc)
Vice Chairman of Manchester United plc, Ed Woodward, said:
"We are very proud of the results achieved in fiscal year 2014 as we once again generated record revenues and EBITDA driven by our commercial and broadcasting businesses which delivered impressive year over year growth. We also recently announced a record breaking deal with Adidas and very much look forward to launching this partnership next summer."
"With Louis van Gaal at the helm as manager, and the recent signing of some of the world's leading players to further strengthen our squad, we are very excited about the future and believe it's the start of a new chapter in the club's history."
"Louis' footballing philosophy fits very well with Manchester United and he has an impressive track record of success throughout his career, winning league titles with every club he has managed."
However, Mr. Van Gaal's tenure has not started off well. In the first three Premier League games of the season Man Utd. only has two points, and it lost to MK Dons in the Capital One Cup.
Multimillion Adidas contract
In July, Manchester United announced a 10-year deal worth £750 million with German sportswear maker Adidas. It is the largest kit contract in the history of sport.
The deal is £40 million less than what the Glazer family paid when they bought the whole company in 2005.
The £75 million-per-year deal dwarfs Champions League winner Real Madrid's £27 million-a-year contract with Adidas.
Manchester United also signed a seven-year shirt deal with Chevrolet worth $559 million.