Manchester United has announced a multi-year global sponsorship deal with Geneva-based online forex trading company Swissquote. Neither party gave details on the value for the deal, the football club's first in the sector.
The trading company that allows retail investors to trade in foreign exchange, equities, bonds and other asset classes says it aims to share its services and know-how with a broader, international public. Retail investors are individuals who invest using their own money.
Swissquote CEO Marc Burki said:
"This is a further misestone in the history of Swissquote. Manchester United and Swissquote complement each other perfectly for a partnership. We have the same values – transparency and confidence – enjoy a good reputation, and above all very solid [sic], an important condition for long-term success."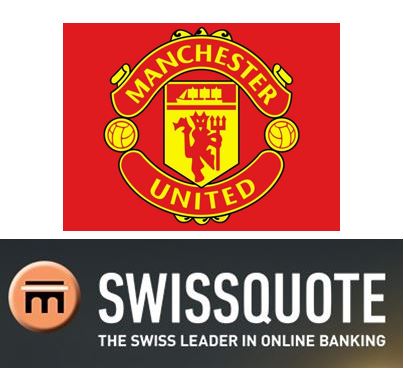 Swissquote is interested in Manchester United's global reach, especially its strong following in China.
Manchester United Group Managing Director Richard Arnold commented:
"Swissquote is onf of the top ten largest Forex brokers in the world and is by far the strongest and most reliable competitor in the market. The technology and services it offers are superior to anything else available, offering customers the ability to take their finances into their own hands."
"Much like Manchester United, Swissquote strives for perfection, looking to innovate, influence and enhance the industry it works within by recreating the future of banking."
---
---
Manchester United's global reach attracts sponsors
Manchester United (United), an English Premier League club, claims to have more than 659 million followers worldwide, making its brand name attractive to multinationals such as sportswear group Adidas and automaker Chevrolet. In July 2014, United and Adidas signed a £750 million 10-year kit sponsorship deal, the largest contract of its type in the history of sport.
Swissquote is particularly interested in United's massive following in China, as well as other parts of Asia.
As part of the deal, Swissquote clients will have the chance to meet United's sports stars and get behind the scenes at its famous Old Trafford stadium.
United, along with Spain's Real Madrid, are leaders in growing revenues off the pitch, which probably explains why they are the two richest football (US English: soccer) clubs in the world (R. Madrid is the richest).
Reuters quoted Mr. Arnold, who said in an interview "The last quoted statistics that we had showed that of the top 25 sponsorship categories, we were only active in 15 of those. I think there is a huge potential still for the club, and the other thing we have seen is there is very significant growth even within categories."
Swissquote, which was founded in 1999, is currently a partner in the championship-winning Mercedes Formula One team.
On January 20th, United announced its first official global casino games partner, KamaGames.  A multi-year deal was signed in which Kama Games became the official Social Casino.
The word 'partnership' has several meanings. Apart from its meaning in this text, it may also refer to two or more people who invest in a business – they are known as partners.