March Eurozone unemployment fell slightly to 18.913 million, 22,000 fewer people than in February 2014 and 316 000 lower than in March 2013, according to Eurostat, the European Union's statistical office. Unemployment stood at 11.8% in the Eurozone in March 2014, compared to 12% in March 2013.
In the whole of the European Union (EU), known as the EU28 there were 25,699,000 unemployed people, 66,000 fewer than in February 2014 and 929,000 fewer than in March 2013.
The EU28 includes all the Eurozone countries plus EU member states that do not use the euro as their national country, such as the UK, Denmark, and Sweden.
Unemployment in the whole of the European Union, the EU28, was 10.5% in March compared to 10.9% in the same month last year.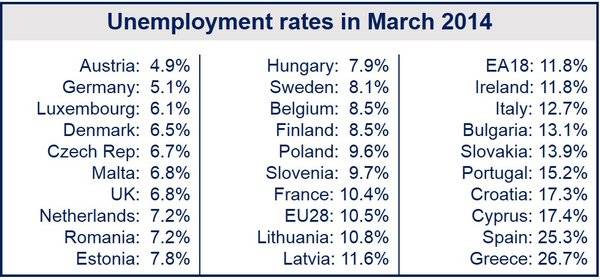 There is a north-south divide in Europe regarding unemployment rates.
The following countries registered the lowest March unemployment rates:
The following countries reported the highest unemployment rates for March:
Over the past 12 months, ten EU member states have seen unemployment rise, fifteen reported falls, while three registered no change.
The highest increases were reported in Cyprus (from 14.8% to 17.4%), the Netherlands (from 6.4% to 7.2%), Italy (from 12% to 12.7%), and Croatia (from 16.6% to 17.3%), while the biggest declines were registered in Hungary (from 11.2% to 7.9%), Latvia (from 13.9% to 11.6%), Portugal (from 17.4% to 15.2%), and Ireland (from 13.7% to 11.8%).
In an interview with the BBC, Timo del carpio, European economist at RBC Capital Market, said the figures "lend more weight to the view that unemployment in the euro area peaked late last year, which will offer some degree of reassurance to policymakers that the recovery is slowly gaining traction."
The unemployment rate in the US was 6.7% in March, unchanged from February, but down from 7.5% in March 2013. In the US, 192,000 new (non-farm) jobs were registered in March.
Youth unemployment in Europe
There were 5,340,000 people under the age of 25 years who were unemployed in the EU28, of those 3,426,000 were in the Eurozone.
Youth unemployment fell by 322,000 in the EU28 compared to March 2013 and by 166,000 over the same period in the Eurozone.
The youth unemployment rate in the EU28 stood at 22.8% and 23.7% in the Eurozone, compared to 23.5% and 24% respectively in March last year.
The countries with the lowest youth unemployment rates in March 2014 were:
The highest youth unemployment rates were registered in:
There was a great deal of talk towards the end of last year regarding the medium-term prospects of European jobless growth. Although unemployment has fallen, it has done so at a snail's pace. There is also concern that the Eurozone could slide into a lengthy period of deflation.