The good news is that April unemployment fell 0.4% to 6.3% in the US, the lowest level in six years, while employers added 288,000 jobs, according to the Bureau of Labor Statistics. The not-so-good news is that there were 806,000 fewer Americans in the labor force, i.e. fewer people in jobs.
Employment growth
Economists had been predicting a bumper month for jobs in April, after growth slowed down in December and January, and recovered modestly in February and March. Abnormally harsh winter conditions had slowed down economic activity significantly throughout the US.
Employment growth had averaged approximately 190,000 per month during the 12-month period leading to April 2014. April employment growth was widespread, driven by gains in business and professional services, construction, food services and drinking places.
The number of people working in the retail trade increased by 35,000 in April, which employed 327,000 more people compared to April 2013.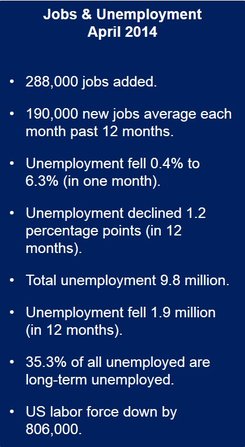 Food services and drinking places employed 33,000 more people in April, which was more-or-less in line with the 28,000 per-month average increase over the previous 12 months.
The construction industry created 32,000 new jobs, led by hiring in civil engineering construction and residential building. A total of 189,000 new jobs were created in construction over the past year.
Health care employment rose by 19,000 in April, slightly more than the 17,000 per-month average over the past year.
According to a separate ADP National Employment Report, private sector jobs in the US increased by 220,000 from March to April.
Unemployment in April
The number of unemployed people fell 733,000 to 9.8 million in April. Over the past 12 months, there were 1.9 million fewer people out of work; the unemployment rate dropped 1.2 percentage points.
In April, unemployment among the major worker groups was as follows:
The number of unemployed reentrants and new entrants in April fell by 417,000 and 126,000 respectively. The number of people who completed temporary jobs and job losers declined by 253,000 to 5.2 million.
There were 287,000 fewer long-term unemployed people in April (3.5 million) compared to March; they accounted for 35.3% of all unemployed Americans. Long-term unemployment declined by 908,000 since April 2013.
Total involuntary part-time workers, i.e. people working part-time for economic reasons, remained little changed at 7.5 million in April. These people had been working part time because their hours had been reduced or they were unable to find full-time employment.
There were 2.2 million people who were marginally attached to the labor force, slightly fewer than one year ago. These people had been available for work at some time during the previous 12 months. They are not counted as unemployed people because they were not looking for work during the previous four weeks prior to the survey.
In an interview with the New York Times, Ethan Harris, co-head of global economics at Bank of America Merrill Lynch, said "The payroll numbers suggest that the economy is recovering from a weather-induced showdown. (But) even with the drop in the unemployment rate, we still have not reached to point where workers have negotiating power."
In the week ending April 26th, 2014, initial jobless claims in the US grew by 14,000 to 344,000, a 9-week high.
Civilian labor force smaller
The civilian labor force, i.e. the number of people in jobs, fell by 806,000 in April after increasing by 503,000 in March.
The number of Americans in work declined by 0.4 percentage points to 62.8% in April. There has been no clear trend in the participation rate in recent months, which is currently the same as it was in October 2013.
According to the Labor Department, high school and college students seeking summer jobs simply have not shown up this time. Although young people make up a progressively smaller proportion of the national workforce, the speed of the decline has accelerated over the last 12 months and experts are uncertain why.
The Washington Post quoted Ashley-Camille Jackson, a junior at Winston-Salem State University in North Carolina, who said "The job market is really hard these days, especially for young people, because we don't have a degree yet. Right now, we're competing against people who have one, two, three degrees."