Mark Zuckerberg went jogging in smoggy Beijing and was promptly mocked on Chinese social media. Beijing, one of the most polluted places in the world, where face masks are common and runners are rare, is definitely not the place to do exercise outdoors without protecting your airways, local say.
Mr. Zuckerberg, chairman, chief executive, and co-founder of the social networking website Facebook, is a very popular personality in China, even though his social media service is banned in the country, together with other foreign platforms.
Despite his repeated attempts to get Chinese authorities to allow Facebook and other western social media networks to operate in the country, the chances of that happening over the short- and medium-term are extremely remote. Social media refers to apps and websites that enable individuals, companies and other organizations to create and share content in social networking sites as well as blogs.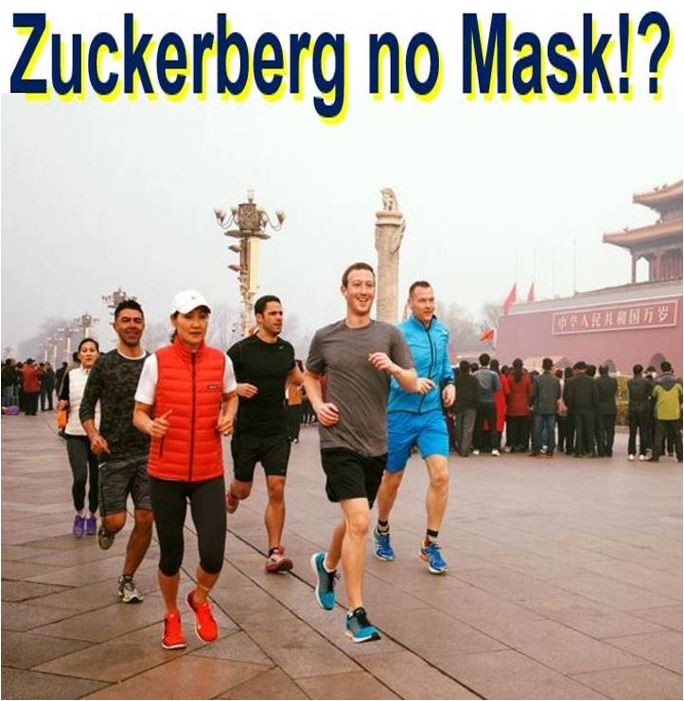 Why did Mark Zuckerberg run in smoggy Beijing without a mask? Was he simply naive or helping the authorities in their propaganda campaign in the hope of gaining commercial favours? (Image: facebook.com)
Mr. Zuckerberg is in China's massive capital to attend an economic forum that is taking place this weekend, where global finance and business leaders meet with senior Communist Party members.
On his first morning in smoggy Beijing, after going on a run in the city, he posted a photo of himself and five others jogging through Tiananmen Square with the famous gate of the Forbidden City in the background.
---
---
In the picture, neither Mr. Zuckerberg nor anybody else in his entourage was wearing a face mask.
Running in smog with no mask bad for health
During his run, atmospheric pollution levels were way above the human safety limit – in fact about fifteen times the level that the World Health Organisation considers as safe. On such days, health experts urge people to refrain from going outdoors, and definitely rule out any kind of outdoor physical activity (exercise).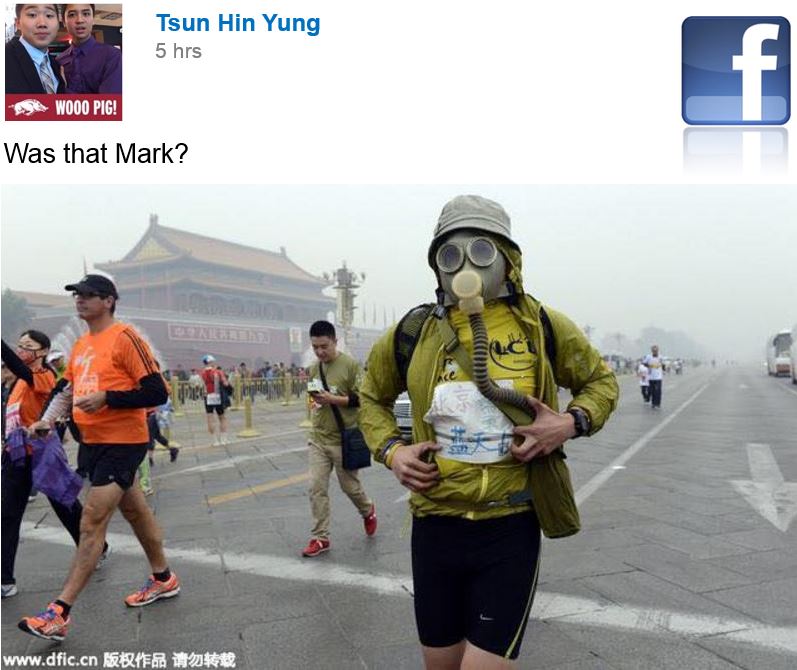 As soon as Mr. Zuckerberg appeared online jogging in Beijing with no facemask, sarcastic comments began to appear in social media websites. (Image: facebook.com)
To be outdoors in that thick smog, running without a face mask is something nobody in Beijing does, unless he or she has a death wish.
The more cynically-inclined among the local population wondered whether Mr Zuckerberg might be pandering to the authorities, who are trying to persuade people they are winning the war against atmospheric pollution.
---
---
The Facebook tycoon has used flattery before in his attempts to get China's leaders onto his side. In 2014, he told the country's top Internet official who was on an official visit to Facebook's headquarters in California that he was engrossed in President Xi Jinping's collected speeches.
Later that year, in halting Chinese, he spoke at a forum at Tsinghua University, while carefully side-stepping the government ban on his social media business.
Beijing smog returns with a vengeance
After a short period of intermittent blue skies, smog has returned to China's capital and its surrounding areas with a vengeance as senior politicians wrapped up their annual meetings and started leaving the city this week.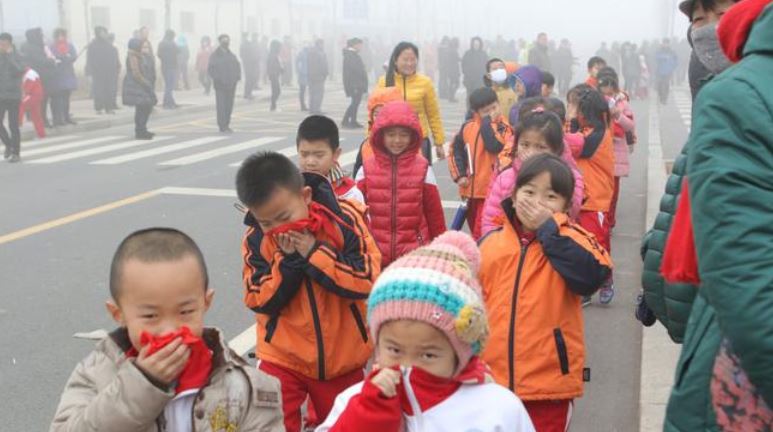 What health problems will these Beijing children have when they grow up, after spending decades breathing in the extremely toxic air.
According to the South China Morning Post, the National Meteorological Centre said that atmospheric pollution – the worst to hit the city so far this year – would last until next Tuesday, with a slight improvement on Saturday.
The municipal government issued a yellow alert on Wednesday afternoon, the second-lowest in the four-tier scale, warning residents to take precautions. The air quality index remained above 250, with PM2.5 levels reaching 274 micrograms per cubic metre at midday on Thursday.
This is over 10 times the WHO recommended limit for a 24-hour period.
Video – Mark Zuckerberg in controversial Beijing jog