A report revealed that the international market for geothermal power continues to show strong signs of growth and identifies 70 countries moving forward with nearly 700 geothermal power projects.
The report, 2013 Geothermal Power: International Market Overview, comes from the Geothermal Energy Association (GEA), a trade association representing US companies that support expanding global use of geothermal energy.
GEA Executive Director, Karl Gawell, says in a media release:
"The number of geothermal projects continues to grow as more and more countries recognize the potential economic and environmental benefits that geothermal power can bring."
Ben Matek, GEA's Geothermal Industry Analyst, who wrote the report, adds:
"There are so many projects moving forward that just a year or two ago were ideas on paper. This demonstrates how quickly the geothermal industry is growing internationally."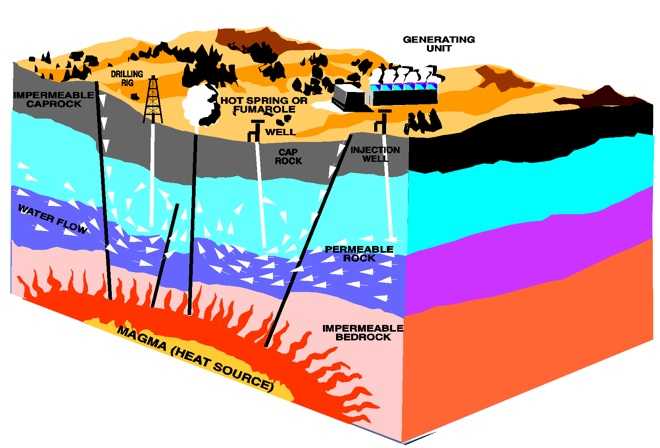 Geothermal power is energy derived from the heat in the interior of the earth.
The GEA report makes the following key points:
Current global geothermal capacity – as of August this is 11,765 Megawatts (gross) and is expected to reach 12,000 by the end of this year as construction projects complete.
Planned additional geothermal capacity – 70 countries and territories worldwide are in the early stages of developing or have already begun construction to add another 11,766 Megawatts(MW) to global geothermal capacity.
Potential longer term capacity being explored – developers are exploring a total of 27 Gigawatts (GW) of untapped geothermal resources that could potentially be turned into power plants over the next ten years.
Geothermal projects in the pipeline – as these complete, they could add several hundred MW of new power per year, allowing total global capacity to approach 14,000 MW by the end of the decade.
Under construction – there is over 1,741 MW of geothermal power under construction in 12 countries worldwide. GEA has counted over 670 projects in various stages of development.
Enhanced Geothermal System (EGS) – this year has seen some of the first demonstration EGS projects deliver power to electricity grids in Australia and the US.
Countries with first geothermal plants – Chile, France, Rwanda, Tanzania and Uganda all have geothermal plants under construction and hope to commission their first in the next few years.
Geothermal power is produced from geothermal energy, which is generated and stored in the Earth. While some of the energy comes from when the Earth was formed, most of it comes from radioactive decay of minerals.
The report also profiles geothermal energy development in 21 countries and five continents.
One such profile is of Indonesia, where despite the huge potential for geothermal power (due its volcanic geology), regulatory problems pose considerable barriers to geothermal development.
However, the report says in spite of these barriers, Indonesia ranks second for developing projects with 57 projects in some phase of development – it has nearly 4,100 MW of geothermal power in the pipeline, and 860 MW is under construction.
If all the plants meet their published completion dates, Indonesia could have nearly 2 GW of installed capacity by 2018, says the report.