The International Monetary Fund (IMF) has cut its 2013 global growth estimate to 2.9% in its World Economic Outlook (WEO) report, down from 3.2% in July. In 2012 the global economy grew by 3.2%.
The IMF added that its global growth estimate for 2014 is 3.6%.
This time, most of the pick up in growth will be due to the rich nations whose economies are showing signs of strong recovery.
The IMF has reduced its global growth estimate because of the natural cooling of economies following the stimulus-driven surge in activity that occurred after the Great Recession.
Economic slowdown has been seen in many emerging markets, which has been largely due to structural bottlenecks in infrastructure, labor markets and investment.
The IMF's chief economist, Olivier Blanchard, who is also head of the Research Department, said:
"This transition is leading to tensions, with emerging market economies facing both the challenge of slowing growth and changing global financial conditions."
Add to these growth transitions the looming turning point in U.S. monetary policy, and the new challenges and risks become more stark, the report authors wrote.
Long-term interest rates in many economies, including the United States, have risen more than expected.
Even though the U.S. Federal Reserve decided to keep its asset purchase levels intact at $85 billion per month, and capital outflows from emerging economies have slowed down, bond yields are still significantly higher than they were in early May.
The authors believe there is a risk that financial conditions will tighten from their current supportive levels.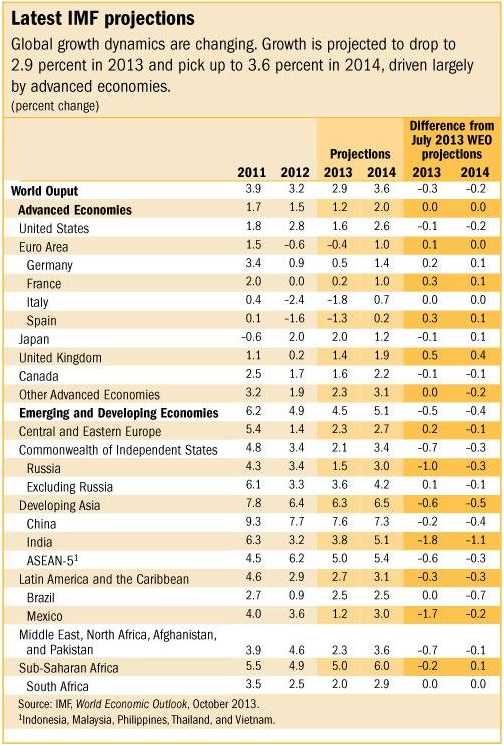 Global growth is being driven by the advanced economies.
IMF global growth estimate, some highlighted data
The United States – the forecasts are based on the assumption that the current government shutdown will be short-lived and the debt ceiling will be raised on time. The U.S. economy is forecast to grow from a 1.5% rate in 2013 to 2.5% in 2014. Next year's higher growth will be driven by continued strength in consumer demand, which is supported by rising household wealth and a recovering housing market.
The Euro zone – financial conditions are much more stable now after new policies were implemented. However, growth is uneven, with northern countries expanding and southern ones with very high unemployment and credit bottlenecks. Growth is forecast to reach 1% in 2014.
Japan – the authorities' new policy package (Abenomics), which includes monetary easing and fiscal stimulus has resulted in an "impressive rebound in activity". However, consumption tax hikes, together with the expected unwinding of reconstruction spending and fiscal stimulus will probably result in the 2% expected growth for 2013 dropping to 1.25% in 2014.
China – economic growth for 2013 will be 7.5% and 7.25% next year. Amid concerns for financial stability, policymakers have decided not to stimulate the economy. China is aiming for balanced and sustainable growth.
Emerging markets and developing economies – growth is expected to be 4.25% in 2013 and 5% in 2014, "supported by solid domestic demand, recovering exports, and supportive fiscal, monetary and financial conditions." Many low-income countries, including those in sub-Saharan Africa, will benefit from the rise in commodity prices. However, Pakistan, Afghanistan, North Africa and economies in the Middle East will continue to struggle with challenging economic and political transitions.
A report last week showed that the UK economy is growing faster than any other rich nation.