Microsoft and Facebook are teaming up to build a massive 4,100-mile internet cable across the Atlantic Ocean, set to stretch from Virginia Beach to Bilbao, Spain.
The cable, dubbed MAREA – which means "tide" in Spanish – will feature eight fiber pairs and an initial estimated design capacity of 160Tbps – a massive capacity relative to the current potential capacity across the Atlantic.
The companies are working together to build the cable as part of an effort to boost the development of next-generation Internet infrastructure in order to cope with the surge of data consumption of their cloud and online services.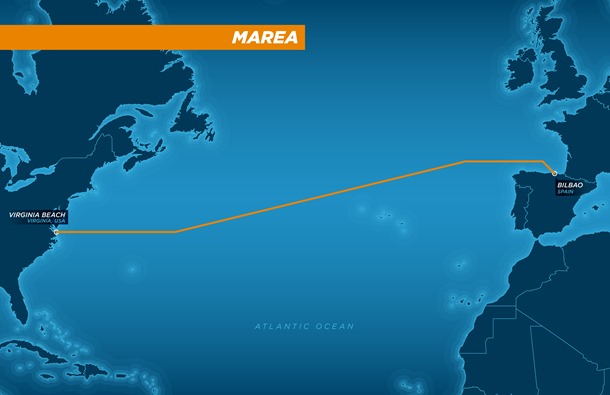 MAREA will be the highest-capacity subsea cable across the Atlantic. It will be south of existing transatlantic cable systems, most of which are located in New York and New Jersey.
The route, from Virginia to Spain, is south of existing transatlantic cable systems – which primarily land in the New York/New Jersey area. Microsoft said that "being physically separate from these other cables helps ensure more resilient and reliable connections for our customers in the United States, Europe, and beyond."
It will be the first cable to connect the United States to southern Europe, and then beyond to other network hubs across Europe, Africa, the Middle East and Asia.
Frank Rey, Director, Global Network Acquisition, Microsoft Cloud Infrastructure and Operations, said in an official blog post:
"The new MAREA cable will help meet the growing customer demand for high speed, reliable connections for cloud and online services for Microsoft, Facebook and their customers.
The parties have cleared conditions to go "Contract-In-Force" with their plans, and construction of the cable will commence in August 2016 with completion expected in October 2017."
---
---
MAREA will be operated and managed by Telxius – Telefonica's global infrastructure business. Telxius will serve as the operator of the system and sell capacity as part of their wholesale infrastructure business.
A growing number of tech firms are investing heavily in building their own undersea cables across the Atlantic in order to keep up with the growing amount of data they must move.
Tech firms are becoming less reliant on trans-Atlantic cables operated by groups made up of telecom companies. "The consortium model is much slower than what we would like," said Najam Ahmad, Facebook's vice president of network engineering.