Recently acquired Nokia reported a loss of $692 million, which contributed to a Microsoft profit fall of 7% to $4.6 billion in Q4 2014 compared with $4.97 billion in Q4 2013. Among the 18,000 jobs to be cut in the company's cost-reducing program, more than 12,000 workers will be laid off in the Nokia phone business, the company announced last week.
Microsoft's fiscal year is from July to June, hence this last quarter was Q4.
The Redmond-based multinational's new CEO said the two most important segments of the company's future are cloud computing and mobile. While cloud computing is doing well, its mobile is not.
Analysts and investors were not surprised with Microsoft's lower profit figure; after the acquisition of the Finnish phone maker they had been expecting it.
For the quarter ending June 30th, revenue reached $23.38 billion, while diluted earnings per share, operating income and gross margin were $0.55, $6.48 billion and $15.79 billion respectively.
Microsoft's CEO, Satya Nadella, said:
"We are galvanized around our core as a productivity and platform company for the mobile-first and cloud-first world, and we are driving growth with disciplined decisions, bold innovation, and focused execution. I'm proud that our aggressive move to the cloud is paying off – our commercial cloud revenue doubled again this year to a $4.4 billion annual run rate."
Amy Hood, executive vice president and chief financial officer, said:
"Our solid execution and expense discipline allowed us to deliver a strong finish to the fiscal year. As we enter fiscal 2015, we are focused on aligning our resources to strategic investments that we believe will deliver the next wave of innovation, growth, and long-term shareholder value."

Some analysts have criticized Mr. Nadella for not taking a disciplined enough stance in the new strategy he announced for the company on July 1st.
Microsoft cloud computing, good news
Microsoft's cloud computing segment has pleased its CEO, other executives and investors so far.
Investors are still concerned that the company might spend billions on diversification and get virtually nothing for it, as seems to have occurred with its investments into Internet search. The fact that Mr. Nadella is fiercely trying to keep costs down offers them some comfort.
Microsoft predicts that for the full year, its commercial cloud business will have clocked up $4.4 billion in sales if June's levels can be sustained. Cloud computing sales doubled in the year ending June 30th.
In an interview with the New York Times, Daniel Ives, an analyst at FBR Capital Markets, said that although Nokia was a messy business with huge challenges ahead "The cloud strategy is really starting to pay dividends."
Mr. Nadella surprised everybody yesterday when he said that Bing, Microsoft's search engine, will be profitable in 2016.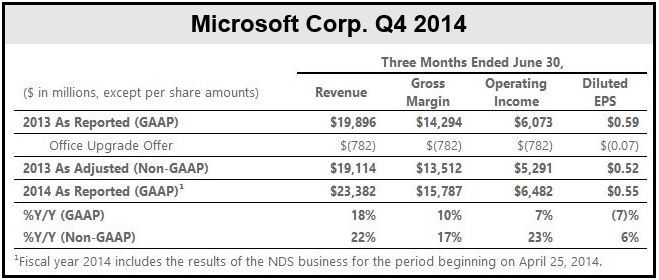 (Source: Microsoft Corp.)
Microsoft 18,000 job cutting program
Last week, Microsoft announced a huge job-cutting program involving 18,000 workers, with most of them (12,500) occurring at its telephone unit Nokia.
The announced lay-off plan was three times as big as the 6,000 analysts had been forecasting.
The company said the restructuring strategy is urgently needed to simplify and streamline the firm. Nokia's production facility in Hungary will close down.
Over the last four years, Microsoft's workforce has increased from 89,000 to over 127,000.
Microsoft mobiles hurting profits
Microsoft bought Nokia's handset operation in April for $7 billion. It's losses sapped almost $700 million from the company's fourth quarter's operating profit.
The acquisition may have been a wise move if Microsoft can increase smartphone sales and consequently lure those customers to its mobile apps, Internet services and software. For the moment, investors see this as just an optimistic hope.
After the Nokia purchase, the company has less than 5% of the global market share of smartphones. Since the acquisition it has sold approximately 5.8 million Nokia smartphones, compared to Apple's 35.2 million iPhones over the same period.
Video – Microsofts revenue rises while profits fall