The British Government has issued a "name and shame" list of a further 37 employers who did not pay their employees the National Minimum Wage. Business Minister Jo Swinson said the companies owed their workers more than £177,000 in arrears and had been fined a total of £51,000 in penalties.
Among the thirty-seven shamed employers are service station operator Welcome Break and retail giant H&M. Welcome Break blames a new IT error for the mistake, while H&M says its underpayments were due to logging problems.
The National Minimum Wage in the UK (per hour) is ₤6.50 for adults aged 21+, ₤5.13 for young adults aged 18 to 20 years, ₤3.79 for 16 to 17 year-olds, and ₤2.73 for apprentices.
Since the new name and shame regime came into force in October 2013, the government had already named 55 employers, which had arrears totaling £139,000 and penalties amounting to £60,000.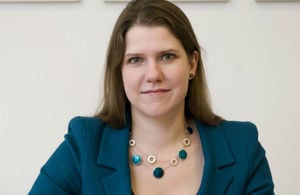 Employers who fail to pay the minimum wage will be named, shamed and fined, says Ms. Swinson. (Photo: UK.GOV)
HM Revenue and Customs' (HMRC) National Minimum Wage enforcement budget will be raised by an additional £3 million to £12.2 million in the 2015-2016 financial year.
Ms. Swinson says the additional funds will go towards increasing the number of HMRC compliance officers "to identify businesses that exploit their workers by paying them below the National Minimum Wage."
"Paying less than the minimum wage is illegal, immoral and completely unacceptable. If employers break this law they need to know that we will take tough action by naming, shaming and fining them as well as helping workers recover the hundreds of thousands of pounds in pay owed to them."
"We are also looking at what more we can do to make sure workers are paid fairly in the first place. As well as being publicly named and shamed, employers that fail to pay their workers the National Minimum Wage face penalties of up to £20,000. We are legislating through the Small Business, Enterprise and Employment Bill so that this penalty can be applied to each underpaid worker rather than per employer."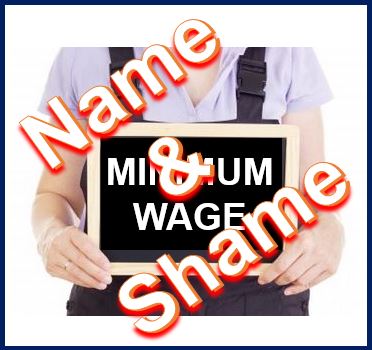 The Government is to employ more officers to catch, name and shame employers who fail to pay the National Minimum Wage.
If you are an employer and are not sure of the National Minimum Wage rules, you can get free advice via the Pay and Work Rights Helpline on 0800 917 2368.
H&M said in a statement:
"H&M employs over 9,500 people in the United Kingdom. Unfortunately due to errors within some of our stores concerning time logging, 540 employees were accidentally underpaid the national minimum wage. The average underpayment for those affected was £4.82. All such arrears were immediately processed and we accept that the errors should not have occurred."
"HMRC have confirmed that they were happy with H&M's complete transparency cooperation and full engagement with the process."
The 37 employers are:
ABC Early Learning and Childcare Centre UK Ltd, Wolverhampton.
Adrien Mackenzie trading as Maverick Models, Manchester.
Browncow Tanning Ltd trading as Fake Bake Hair & Beauty Boutique, Glasgow.
Building Projects Ltd, Dundee.
C J Hartley Ltd trading as Headwork, Sheffield.
Callum Austin Ltd trading as Jason Austin Hairdressers, Kettering.
Century Motors (Sheffield) Ltd, Sheffield.
Chi Yip Group Ltd, Middleton.
Counted4 Community Interest Company, Sunderland.
David A Farrer Ltd, Morecambe.
Ego Hair & Beauty (Anglia) Ltd, Colchester.
H&M Hennes & Mauritz UK Ltd, London.
HAE Automotive Services Ltd, Harrogate (ceased trading).
Holmes Cleaning Company, Worksop.
J Wood Joiners & Builders Ltd, Edinburgh.
Julian's Hair Salon Ltd, Newbury.
Kings Group Lettings LLP, Hertfordshire.
Kings Group LLP, Hertfordshire.
Kingsclere Nurseries Ltd trading as Abacus Day Nursery, Newbury.
Learnplay Foundation Ltd, West Bromwich.
Louise Ross Trading as Luxe Salon, Leeds.
Michael Kearney trading as Electrical Estimates, Ceredigion.
Motorists Discount Store Ltd trading as TMS Autoparts, Manchester.
Mr D Eastwell & Mr G Brinkler trading as The Salon, Letchworth Garden City.
Mr Jinit Shah trading as Crystal Financial Solutions, Middlesex.
Mrs Karen Riley Trading as Crave, Preston.
Mrs Kelly Jayne Lockley trading as Diva Hair Design, Walsall.
Ms Dawn Platts trading as Level 2 Hair Studio, Barnsley.
Ms Thap Thi Ly trading as Sweet N Sour, Fleetwood.
Myers and Family Ltd, Wakefield.
QW Security Ltd, Hartlepool.
RPM Performance Rally World Ltd, Maldon.
Rumble (Bedworth) Ltd, Nuneaton.
Shannons Ltd, Worthing.
Ultimate Care UK Ltd, Ipswich.
Vision on Digital Ltd, Ossett.
Welcome Break Holdings Ltd, Newport Pagnell.