Moderate Eurozone growth is expected to continue, with second quarter 2014 GDP expanding by 0.3%, after the 0.2% growth posted in Q1, say researchers from the German Ifo Institute, the French Insee institute and the Italian Istat in their latest report – Eurozone Economic Outlook.
The economists forecast that growth rates will remain at their present levels through the third and fourth quarters. The recovery is likely to be broad based across most sectors and the whole of the currency bloc.
Most of the upturn will be driven by a gradual improvement in domestic demand and rising exports.
The increase in production activity as well as rising demand for new production capacity is likely to trigger private investment growth, the authors believe. There are already reports of a lack of equipment which is beginning to limit manufacturing output.
It was not until the summer of last year that the Eurozone came out of a prolonged recession.
Unemployment to remain high, inflation low

However, the continuing labor market slack and very slow overall growth in real disposable income will have a dampening effect on consumption prospects.
Eurozone GDP will not grow rapidly enough to significantly reduce the unemployment rate, which is expected to remain at record highs over the short term and to fall only moderately over the medium-term. In November 2013, The European Commission forecast jobless growth for the trading bloc that could persist for a long time.
Assuming that oil stabilizes at $114 per barrel and that the euro/dollar exchange rate does not veer too much from $1.36, headline inflation is forecast to rise only marginally during Q3 and Q4, remaining well below the European Central Bank's (ECB's) target of 2%.
Deleveraging could increase the savings rate in private households, which the authors say is one of the downside risks to their forecast. Sluggish external demand from emerging nations, especially from Latin America and Asia, as well as an escalation of tensions in Ukraine and the military conflict in Syria and Iraq, are examples of other key downside risks.
(Source: CES Ifo Group Munich)
Industrial production recovering
According to the European Commission's surveys, output throughout the Eurozone is increasing in all sectors except construction.
Confidence indicators in construction fell slightly in recent months, but are still higher than the average for 2013.
In April, the considerable growth posted in the industrial production index (+0.8%) implies a strong rebound over the prior months, mainly because the weather was mild compared to the same period in 2013.
In Q2, industrial production is expected to have grown by +0.6%, versus +0.2% in the first quarter. Industrial output growth is expected to continue at around the +0.4% mark for the rest of 2014.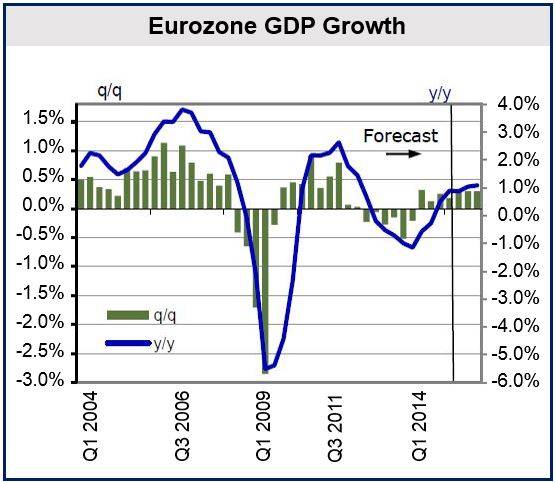 (Source: CES Ifo Group Munich)