GM June sales were 1% higher than in June 2013, marking its best June in seven years. Retail sales rose by 1% and fleet sales by 2%. In a year of record recalls and lawsuits, investors were pleased to receive some good news.
June 2014 had fewer selling days than in June 2013, the company informed. When adjustment were made for that difference, GM's total sales were 9% up last month – retail was 9% higher and fleet sales 10%.
Light vehicles registered a 16.6% SAAR (seasonally adjusted annual selling rate) increase in June, exceeding 16 million vehicles sold for the fourth month in a row.
For the first six months of 2014, the estimated SAAR was 16.1 million, well within the company's full-year forecast of 16-17 million units.
Every brand up (selling day adjusted)

Kurt McNeil, GM's U.S. vice president of Sales Operations, said:
"June was the third very strong month in a row for GM, with every brand up on a selling-day adjusted basis. In fact, the first half of the year was our best retail sales performance since 2008, driven by an outstanding second quarter."
America's largest carmaker said its commercial fleet business posted its eighth successive monthly increase for the best June in seven years.
Mr. McNeil said "It's clear that our commercial and small business customers are expecting a strong second half of the year and they are building their fleets to meet demand."
Commercial fleet sales were 48% higher, thanks to strong small car, pickup and van sales. Healthy car sales pushed up government deliveries by 14%.
Small business deliveries, which count as part of retail sales, increased by 6%, thanks to strong SUV, pickup and van sales.
June rental deliveries were 11% down on the same month last year.
June 2014 highlights
Below are some highlighted June 2014 sales data compared to June 2013 (excect as noted):
Buick: the best month since 2006, with deliveries up by 18%. Encore deliveries increased 82%, LaCrosse 33%, Regal 26%, and Enclave 5%.
GMC: with deliveries up 11%, it was the best June since 2006. The redesigned Yukon registered a 120% increase in sales, the Yukon XL rose by 70%, the Terrain by 8%, and the Savanah by 129%.
Chevrolet: the Chevrolet Sonic and Spark were up 36% and 19% respectively. Chevrolet Tahoe sales grew 93%, the Suburban 73%, the Traverse 3%, and the Silverado 1%.
Cadillac: its best June since 2008. Escalade and SRX sales rose 57% and 19% respectively. Fifty-seven percent of customers did not trade in a Cadillac.
Average Transaction Prices (ATPs): were similar to April and May figures. Higher Cadillac and SUV ATPs offset declines among cars and crossovers. Q2 ATPs were about $800 higher than in Q1 (per unit). Calendar year to date, ATPs are now approximately $2,700 higher versus one year ago.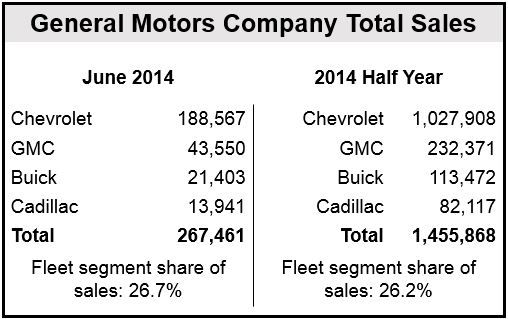 (Source: General Motors)
Recalls and lawsuits
Earlier this week, GM recalled an additional 8.4 million cars worldwide (7.6 million of them in the US) because of ignition switch defects. The company says it has received reports regarding eight injuries, seven crashes and three deaths allegedly linked to the faulty parts.
So far this year, GM has recalled about 29 million vehicles.
A complaint filed by attorneys Hagens Berman Sobol Shapiro in California says millions of GM customers lost money on the resale value of their vehicles because of the ignition switch problem, which damaged the GM brand. The lawsuit could exceed $10 billion because it also includes GM owners whose cars were not recalled, but suffered losses when they tried to resell their cars or trucks.