Mercedes record sales were reported for the first six months of 2014, with more than 783,520 deliveries of new vehicles, an increase of 12.8%. In June, 142,136 new passenger cars were sold, an 8% rise.
Mercedes-Benz is a unit of automotive group Daimler AG.
Ola Källenius, Member of the Divisional Board Mercedes-Benz Cars responsible for Marketing & Sales, said:
"The first half of the year was extremely successful for us. With the unit sales of our vehicles, we are on track to make 2014 into yet another record year."
New car sales during the first six months of 2014 were as follows:
Europe: 352,198 units, a 7.4% increase. Sales rose by 17.8% in the United Kingdom and 7.7% in Switzerland. Sales in Germany totaled 125,215 (+0.7%), where Mercedes is the most registered luxury car.
United States: 151,624 units. The new C-Class will be launched in North America in September.
China, including Hong Kong: 135,972 units, a rise of 37.5%. The new C-Class sedan will be launched in China in September. China is a major, rapidly-growing market for German luxury carmakers. Rival Audi reported an 18% increase to 268,666 vehicles sold in the first six months of 2014, and a record 50,756 delivered in June.
Japan: 27,205 units, a 13% increase. Mercedes-Benz is the most registered premium brand in the country. Sales in June, however, declined.
Mercedes record sales across nearly all models
Sales of the A-, B-, CLA- or GLA-Class vehicles increased by 24.1% during the first six months of the year to 215,205 units. The company will be unveiling the fifth member of its compact car family – the CLA Shooting Brake – at the end of 2014. It will go onto the market early 2014.
E-Class family models were also drivers of growth during the first six months of 2014, with the estate and sedan alone selling 130,464 vehicles, a 27.4% increase.
Twenty-five percent more E-Class coupes and convertibles were sold during the past six months.
Sales of the S-Class doubled to 49,262 during the first half of 2014 compared to the same period in 2013. Mercedes-Benz' Sindelfingen plant produced its 100,000th S-Class sedan model series 222 about a year after production began. The company wrote "The flagship of the brand with the star is leading worldwide in the luxury class and is considered the benchmark of automotive progress with its numerous innovations."
Mercedes-Benz, the 11th most valuable brand in the world, says it will be supplementing its luxury segment with three more models over the next few years.
The company reported deliveries totaling 166,730 units of its Sports Utility Vehicles (SUVs) during the first six months of this year, a 6.8% increase.
The only negative news that Mercedes-Benz had to report was that its Smart Fortwo (SmartCar) sales had declined by almost -10% to 46,816 units for the first half of the year and by -7% to 7,335 units in June. Later this month it is introducing the next generation of its Smart brand.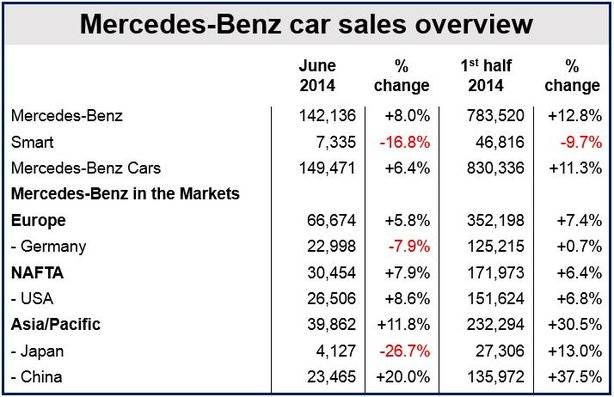 (Source: Daimler AG)
Americans prefer German luxury cars
US consumers buy more German luxury cars than American luxury cars. According to Kelley Blue Book, June premium car sales in the US were as follows:
Daimler Chief Executive Officer, Dieter Zetsche, says Mercedes aims to become the world's largest luxury carmaker by the end of the decade, overtaking Audi and BMW. The company is rolling out 30 new vehicles by 2020, with nearly half of them having no predecessor.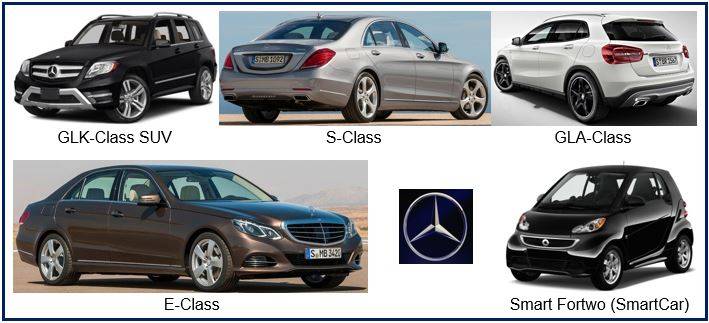 All the Mercedes-Benz models reported strong sales growth, except for the SmartCar.
In 2013, global luxury car sales among the German big three were:
This week, BMW announced a $1 billion project to build a production plant in San Luis Potosi, Mexico, three months after saying it is investing $1 billion to double production capacity at its factory in South Carolina.