A new bird species, called the Sichuan Bush Warbler, has been discovered in China by an international team of scientists from China, Sweden, the US, the UK, Hong Kong and Vietnam. The bird is closely related to the Russet Bush Warbler. According to DNA evidence, the two species had a common ancestor dating back 850,000 years.
The Sichuan Bush Warbler (Locustella chengi) can be found in five mountainous provinces in central China.
The scientists wrote in the journal Avian Research (citation below) that the elusive bird shunned the limelight by hiding in scrubby and grassy vegetation over the years.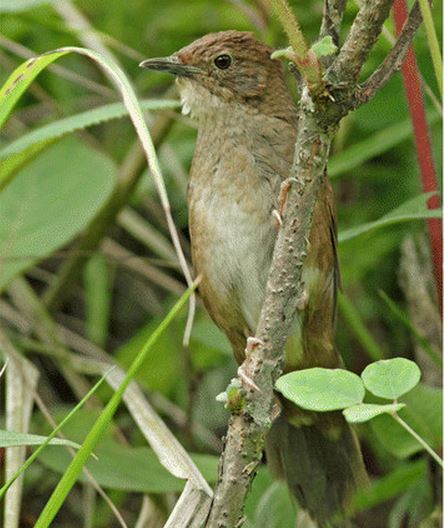 An adult male Sichuan bush warbler (Locustella chengi). (Image: Avian Research)
What eventually gave it away was its distinctive song, said co-author Pamela Rasmussen, a visiting assistant professor of zoology, and assistant museum curator of mammalogy and ornithology, at Michigan State University.
Prof. Rasmussen, who has helped document and scientifically describe 10 new bird species, said:
"The Sichuan bush warbler is exceedingly secretive and difficult to spot as its preferred habitat is dense brush and tea plantations."
"However, it distinguishes itself thanks to its distinctive song that consists of a low-pitched drawn-out buzz, followed by a shorter click, repeated in series."
Fairly common bird
Although the bird might be difficult to find, it is relatively common in central China and does not appear to be under any imminent threat, the authors added.
The bird's song can be heard at MSU's Avian Vocalizations Center webpage (see below), where the songs of thousands of birds are stored, including that of the Sichuan Bush Warbler's cousin, the Russett Bush Warbler.
Both types of warblers can be found on some of the same mountains in China. However, the Sichuan Bush Warbler tends to prefer living in lower altitudes. When not competing with the Russett Bush Warbler, it breeds at altitudes reaching 7,500 feet.
The Latin name (Locustella chengi) was chosen in honor of China's greatest ornithologist, the late Cheng Tso-hsin (1906-1998), who founded the Peking Natural History Museum and wrote 140 scientific papers and 30 books. He was known globally for his dedication to ornithology.
Mr. Tso-hsin was a member of the Academia Sinica, Corresponding Member of the British Ornithologists' Union, Honorary Fellow of the American Ornithologists' Union, and Honorary President of the China Ornithological Society.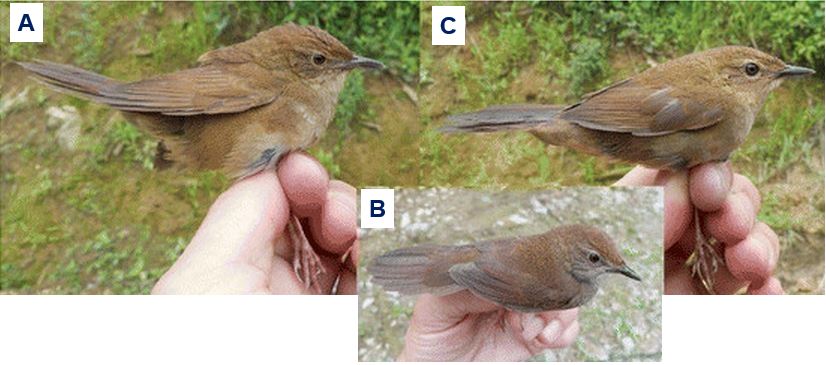 (a) and (b) Sichuan Bush Warbler, and (c) Russet Bush Warbler. Identified by their song. (Image: Avian Research)
Prof. Rasmussen said:
"We wanted to honor Professor Cheng Tso-hsin for his unparalleled contributions to Chinese ornithology. Many species are named for European explorers and monarchs but few bear the names of Asian scientists."
Sichuan Bush Warbler song
(Source: avocet.zoology.msu.edu)
The authors said that Mr. Tso-hsin would have appreciated the international team, led by Per Alstrom from the Swedish University of Agricultural Sciences, and Fumin Lei of the Chinese Academy of Sciences.
Citation: "Integrative taxonomy of the Russet Bush Warbler Locustella mandelli complex reveals a new species from central China," Per Alström, Canwei Xia, Pamela C Rasmussen, Urban Olsson, Bo Dai, Jian Zhao, Paul J Leader, Geoff J Carey, Lu Dong, Tianlong Cai, Paul I Holt, Hung Le Manh, Gang Song, Yang Liu, Yanyun Zhang and Fumin Lei. Avian Research. Published 1 May, 2015. DOI: doi:10.1186/s40657-015-0016-z.