Developers expect to break ground on a new biotechnology plant in Newport in May – after several delays.
The development, which is primarily funded by foreign investors, is expected to create at least 400 jobs.
The building will be constructed at Newport's Jay Peak Biomedical Research Park.
The Vermont Department of Financial Regulation gave developer Bill Stenger approval to seek more investors for the construction of AnC Bio Vermont, an 80,000-square research facility that will manufacture portable dialysis machines and heart-lung machines.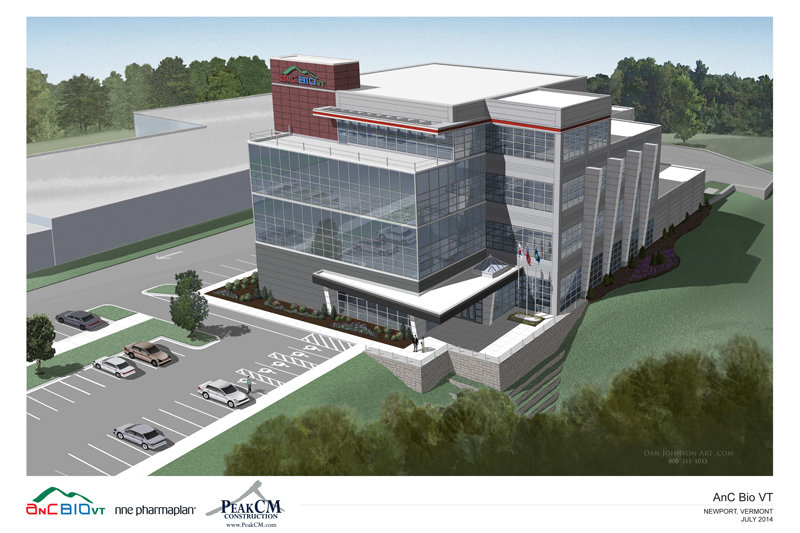 Credit: PeakCM Construction
The project will be carried out by PeakCM, in collaboration with NNE Pharmaplan and Anc Bio VT.
According to PeakCM:
"This leading edge research and development facility is designed as a highly controlled clean room manufacturing space with versatile processing equipment for the purpose of supporting research in the fields of biomedical research and development."
The state had put a hold on marketing the project until an updated marketing analysis and investor offering was provided.
The necessary information was handed in by the developers last week.
Stenger of AnC Korea said:
"We own the intellectual property that was created there." (Intellectual property refers to trade secrets, trade dress, industrial design rights, trademarks, patents and copyright).
He added:
"That's the only financial relationship and we have no liability. There's not one downside to this."
Additional money raised has to be put in escrow
Susan Donegan, commissioner of the Department of Financial Regulation said that before the project is finally approved by the state any additional funds raised have to be put in escrow.
"The project has not been approved and the financial review has not been completed," she said.
Stenger said that around 2,300 jobs have been identified as part of the project.
He said:
"We own very high quality intellectual property and patents, and we're going to be able to offer those products and services in the North American market, in the South American market, in a debt-free FDA certified building, which will be in Newport, Vermont,"
---