Next plc posted a 2.9% increase in sales in the run up to Christmas compared to the same period last year, which came in at the top end of its forecast. The company announced on Tuesday that it expects full-year profits to be 11.5% higher.
The British clothing, footwear and home products retailer, which refrained from offering discounts before Christmas, says it expects profits to be about £775 million (give or take £10 million), which will be £5 million more than its October midpoint profit guidance.
Next says it will be paying a fourth special dividend of the year. Total sales for the year, ending on December 24th were 7.7% higher compared to the previous year.
The Enderby-based company says it would return any surplus cash to investors, with its 4th special dividend amounting to 50p per share.
News of the firm's strong performance boosted its share price by 4% in early trading on Tuesday on the FTSE 100.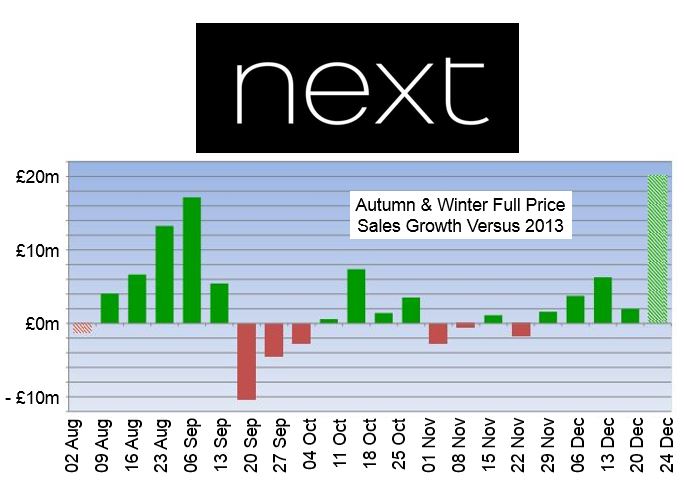 Source: "December 2014 Trading Statement," Next plc.
Regarding 2015, Next warned that it remained "very cautious". Even so, it sees the outlook for British consumers as "relatively benign" with wages starting to pick up, plentiful available credit, falling unemployment, low inflation and "a somewhat more positive picture than recent years."
Uncertainty in the global economy plus a general election in May 2015 presented risks, the company added.
Next expects sales to grow by between 2.5% and 7.5% in 2015/16.