UK December house price growth showed further signs of losing momentum, as mortgage-lender Nationwide posted a 7.2% year-on-year increase, the smallest rise in thirteen months. House price rises have slowed for four consecutive months.
A Reuters poll of Economists reported expectations of a 7.5% increase in December.
More stringent mortgage-lending rules by regulators have definitely taken some of the steam our of the housing market, experts say. Today, lenders have to carry out tougher checks on a borrower's ability to meet mortgage repayments.
However, over the three-month period ending in December, house prices increased by 1%, compared to 0.9% during the previous three months.
Annual house price growth declined in twelve of the UK's thirteen regions. Even so, Nationwide economists predict that the market will pick up again in 2015.
Nationwide's Chief Economist, Robert Gardner, said:
"If the economic backdrop continues to improve as we and most forecasters expect, activity in the housing market is likely to regain momentum in the months ahead."
"There are encouraging signs that construction is starting to pick up. Hopefully, this will set the stage for house price growth gradually converging with income growth in the quarters ahead."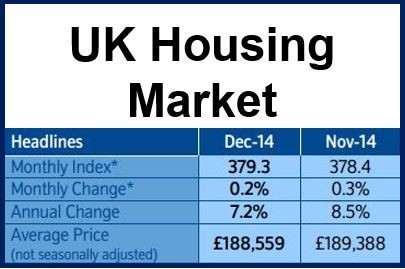 Source: "Nationwide House Price Index," Nationwide.
Mr. Gardner believes the Chancellor's recent stamp duty reform may help give the market a boost. Earlier this month, Bank of England Governor Mark Carney said he expected the new stamp duty arrangement would help bolster the housing market.
Based on Land Registry transactions data for 2013/14, nearly 590,000 home buyers in England and Wales would benefit under the new stamp duty arrangement, by about (average) £1,600, Mr Gardner explained. Buyers in the South of England are expected to benefit the most.
Mr. Gardner said:
"We estimate that around 85% of transactions in London, the South West and South East would benefit from the changes, compared to around 50% in the North, Yorkshire and Humberside, and the North West of England."